 NOTES AND ILLUSTRATIONS.
Letter A, page 3.
Dr Lingard, in his History of Eng­
land, vol. iii. p. 119, observes, that
" the Scottish king consented to an
arrangement, by which, although he
eluded the express recognition of feu­
dal dependence, he seems to have con­
ceded to Henry the whole substance of
his demand." And the same acute
historian has remarked, in the same
volume, " that when the Scottish king
received a grant of land in Tynedale
and at Penrith, and consented to per­
form a new homage for these posses­
sions, the question as to the homage
demanded for Scotland was left un­
decided." I much question the accuracy
of these statements ; and if the reader
will take the trouble to turn to the first
volume of the Fcedera, pages 374 and
428, he will at once perceive the ground
of my dissent. The legitimate inference
to be drawn from the documents in
Rymer is, that the question as to any
homage due by Alexander the Second
for his kingdom of Scotland was de­
cided against Henry in 1237, and that
the English king acquiesced in the
decision; for it will be observed, the
homage then paid was for his new
acquisition,1 and there is no reserva­
tion of the claim of homage for Scot­
land. Again it appears that this
decision was virtually enforced and
repeated in the charter granted by
Alexander in 1244. Henry's demand
had evidently been, that Alexander
should perform homage to him for his
kingdom of Scotland. Alexander, who
at that time held lands in England,
was reported, says Mathew Paris, to
have " answered bitterly that he never
did, and never would, hold a particle of
1 Rymer, Foeders, vol. i. p. 376.;
land in Scotland under Henry,"2 but he
at the same time was ready to take the
oaths to Henry as his liege lord. This
surely cannot be culled " a concession
to Henry of the whole substance of his
demand." The charter by Alexander
the Second to Henry the Third, alluded
to in the text, is as follows:—
"Alexander, Dei gratia, Rex Scotiæ,
omnibus Christi fidelibus hoc scriptum
visuris vel audituris, salutem :
" Ad vestram volumus pervenire noti-
tiam, nos pro nobis et hæredibus nostris
concessisse, et fideliter promisisse, cha-
rissimo et ligio Domino nostro Henrico
Tertio, Dei gratia, Regi Angliæ illustri,
Domino Hyberniæ, Duci Normanniæ et
Aquitaniæ, et Comiti Andegaviæ, et
ejus hæredibus, quod in perpetuum
bonam fidem ei servabimus pariter et
amorem :
" Et quod nunquam aliquod fœdus
inibimus per nos, vel per aliquos alios,
ex parte nostra, cum inimicis Domini
Regis Angliæ, vel hæredum suorum, ad
bellum procurandum vel faciendum,
unde damnum eis, vel Regnis suis
Angliæ et Hyberniæ, aut cæteris terris
suis, eveniat, vel possit aliquatenus
evenire, nisi nos injuste gravent :
" Stantibus in suo robore convention-
ibus inter nos et dictum Dominum
Regem Angliæ initis ultimo apud
Eboracum, in præsentia Domini Otto-
nis, tituli Sancti Nicholai in Carcere
Tulliano, Diaconi Cardinalis, tunc
Apostolicæ Sedis Legati in Anglia ; et
salvis conventionibus factis super ma­
trimonio contrahendo inter filium
nostrum et filiam dicti Domini Regis
Angliæ :
" Et, ut hæc nostra concessio et pro-
2 Math. Paris, pp. 562. 568; and Hailes, vol
i. p. 184.
---
NOTES AND ILLUSTRATIONS. 353
missio, pro nobis et hæredibus nostris,
perpetuæ firmitatis robur obtineant,
fecimus jurare in animam nostram
Alanum Ostiarium, Henricum de Bail-
loil, David de Lindesie, Willielmum
Giffard, quod omnia prædicta, bona
fide, firmiter, et fideliter observabimus.
" Et similiter jurare fecimus venera-
biles patres David, Willielmum, Gal-
fridum, et Clementem, Sancti Andreæ,
Glasconensem, Dunkeldensem, et Dun-
blanensem, Episcopos.
" Et præterea fideles nostros, Patri-
cium Comitem de Dumbar, Malcolmum
Comitem de Fife, Malisium Comitem
de Stratherne, Walterum Cumin de
Meneteth, Willielmum Comitem de
Mar, Alexandrum Comitem de Buchan,
David de Hastingia Comitem Athorl,
Robertum de Bruis, Alanum Ostiarum,
Henricum de Bailloil, Rogerum de
Mumbri, Laurentium de Abrinthia,
Richardum Cumin, David de Lindesie,
Richardum Siward, Willielmum de
Lindesia, Walterum de Moravia, Wil-
lielmum Giffard, Nicolaum de Sully,
Willielmum de Veteri Ponte, Williel-
mum de Bevire, Aleumum de Mesue,
David de Graham, et Stephanum de
Smingham, quod, si nos, vel hæredes
nostri, contra concessionem et promis-
sionem prædictam, quod absit, veneri-
mus, ipsi, et hæredes corum, nobis, et
hærcdibus nostris, nullum, contra con-
cessionem et promissionem prædictam,
auxilium vel concilium impendent, aut
ab aliis pro posse suo impendi per-
mittent.
" Imo bona fide laborabunt erga nos
et hæredes nostros, ipsi et hæredes
eorum, quod omnia prædicta a nobis et
hæredibus nostris, necnon ab ipsis et
eorum hæredibus, firmiter et fideliter
observentur in perpetuum.
" In cujus rei testimonium, tam nos,
quam prædicti prælati, Comites et
Barones nostri, præsena scriptum sigil-
lorum nostrorum appositione robora-
vimus.
" Testibus Prælatis, Comitibus, et
Baronibus superius nominatis, anno
Regni nostri, &c.
" Ista signa apposita fuerunt incon-
tinenti, scilicet Regis Scotiœ Alexandri,
Willielmi de Berire, Willielmi de Veteri
Ponte, Willielmi de Lindcsai, Stephani
de Smingham.
" Aliorum sigilla apposite fuerunt
postea. Ft ipsum scriptum Regi An-
glorum transmissum, cud natale Domini
proximo sequens, per Dominum Priorem
de Thinemua"
VOL. I.
Letter B, page 5.
Rymer, Fœdera, page 326, new edit.
—" We find that the Earl of Hereford,
William de Fortibus, earl of Albemarle,
and R. Walerand, seneschal, accom­
panied Gloucester and Maunsell. The
Scottish barons, with whom they are
directed to co-operate against the party
of the Comyns, and who are proscribed
as rebels, are Patricius Comes de Dun-
bar, Males Comes Straern, Nigellus
Comes de Karrike, Robertus de Brus,
Alexander Seneschallus Scotiæ, Alanus
Hostiarius, David de Lindes, Willielmus
de Brethun, Walterus de Murrenya,
Robertus de Mesneres, Hugo Giffard,
Walterus le Seneschal, Johannes de
Crawford, Hugo de Crauford, and
Willielmus Kalebraz."
Letter C, page 7.
Lord Hailes calls this assertion of the
Comyns, that the king was in the hands
of excommunicated persons, a hypocri­
tical pretence. He forgot that, although
in the nineteenth century we can de­
spise the terrors of a sentence of ex­
communication, the Scottish barons
could not treat it as lightly in the
thirteenth; and that at this dark period
the victims of such a sentence were
regarded with universal horror. He
adds, that when the same faction ac­
cused the queen of having excited her
father " to invade Scotland, and extir­
pate the nation," they were circulating
a slander which was basely devised to
operate on the two great passions of the
vulgar—fear and national pride. The
words, " invade Scotland, and extirpate
the nation," are marked as if they were
a quotation from Mathew Paris. But,
according to this author, p. 821, what
the Comyns asserted was not that the
young queen had advised her father to
invade Scotland and extirpate the
nation, but that "she had incited
her father, the King of England, to
come against them with an army in a
hostile manner, and make a miserable
havoc:" a charge strictly founded on
fact.
Letter D, page 7.
I subjoin the treaty between the party
of the Comyns, and Llewellyn, prince of
Wales, taken from Rymer, vol. i. p.
Z
---
354 HISTORY OF SCOTLAND.
653. The page in the text refers to the
new edition of the Fœdera.
Littera continens quod Scoti et Wallenses
non facient pacem cum Rege Angliœ
sine mutuo consensu et assensu.
" Omnibus sanctæ Matris Ecclesiæ
filiis, hoc scriptum visuris vel audituris,
Walt. Cumin Comes de Meneth, Alex.
Cumyn Comes de Buchan Justic. Scotiæ,
Willielmus Comes de Mar, Willielmus
Comes de Ros, Joannes Comyn Justi-
ciar. Galwediæ, Aimeris de Makeswel,
Camerarius Scotiæ, Fresekums de Mora­
via, Hug. et Walter, de Berkeleya
fratres, Bernardus de Mohane, Rigi-
naldus Cheyn, David Lochor, Johannes
Dundemor, Willielmus de Erch, Ector
de Barrit. et eorum amici præsentes et
alligati universi, salutem :
" Noverint nos, anno Gratiæ mille-
simo ducentesimo quinquagesimo octa­
vo, decimo octavo die mensis Martii, de
communi nostrûm consensu et assensu,
cum Domino Lewelino filio Griftini,
Principe Walliæ, et David filio Griffini
fratre suo, Vcino Grufud fil. Maduc
Domino de Bromfeld, Maredud fil. Ris,
Maredud filio Ovenir, Reso Jumori,
Oweyn filio Maredud, Madant filio
Wenwywym, Maredud Seis Lewelin,
Vechan Oweni, Mared filio Leweliner
Domino de Methem, Owen filio Gruffud,
Madant Parvo, Owen filio Bledyn,
Ho well filio Maredud, Elisse et Grufud
filio Jornith, Gorone filio Edvenet;
Jornith Grugman, Eumay Vechan,
Tudar filio Mad, Enmaun filio Karaduc,
Jornith filio Maredud, David filio En-
viayn, Jenev Chich Roys filio Ednevet,
et eorum amicis et alligatis, hanc fecisse
conventionem mutuæ confœderationis
et amicitiæ ; videlicet:
" Quod, sine communi consensu et
assensu præfatorum Principis et Mag-
natum, de cætero nullam pacem, aut
formam pacis, treugam aut formam
treugæ, faciemus cum Domino Rege
Angliæ, aut aliquo Magnate Regni
Angliæ, aut Regni Scotiæ, qui tempore
confectionis præsentis scripti, præfatis
Principi, et Magnatibus, et terris suis,
et nobis contrarii extiterint et rebelles,
nisi illi ad omnem hanc eandem con­
siderationem pariter nobiscuni ten-
eantur.
" Nos etiam contra præfatos Princi-
pem et Magnates nullam potentiam,
utpote exercitum equitum aut peditum,
exire permittemus de Scotia; nec in
aliquo contra ipsos præfato Regi Angliæ
succursum præstabimus aut favorem;
immo eisdem Principi et Magnatibus,
et terræ suæ, fideliter auxsiliantes
erimus et consulentes.
" Et, si contingat quod cum Domino
Rege Angliæ, aut quocunque viro, præ-
fatis Principi, et Magnatibus, aut nobis,
jam adversante, per Domini nostri Regis
Scotiæ præceptum, pacem aut treugam
inire compellamur; nos in bona fide,
quantum poterimus et sciemus, ad
præfatorum Principis, et Magnatum
suorum, et terræ suæ commodum et
honorem hoc fieri procurabimus cum
effectu.
" Nequaquam de voluntate nostra,
nisi per præfati Domini nostri districtam
compulsionem hoc mandatum fuerit et
præceptum, in aliquo contra præsentem
confœderationem faciemus; immo Do-
minum nostrum, pro hac eadem con-
fœderatione nobiscum facienda et obser-
vanda, quantum poterimus, inducemus.
" Mercatoribus etiam Walliæ, cum ad
partes Scotiæ cum suis negotiationibus
venire valeant, licentiam veniendi, et
prout melius poterunt negotiationes suas
vendendi, pacem etiam et protectionem
nostram salvo et secure morandi, et sine
quacumque vexatione, cum eis placuerit,
recedendi, concedimua ex affectu.
' ' Mercatoribus etiam Scotiæ ad partes
Walliæ, de licentia nostra, cum suis
venire negotiationibus persuadebimus
ex corde.
" Ad prædicta omnia et singula, in
fide prædicti Domini Regis Scotiæ
fideliter, integre, et illæse, et sine
fraude ct dolo, et in bona fide obser-
vanda, unusquisque nostrum in manu
Gwyd. de Bangr. Nuncii præfatorum
Principis et Magnatum, fidem suam
præstitit, et, tactis sacrosanctis Evan-
geliis, corporale sacramentum.
"In cujus rei testimonium huic
scripto, per modum Cyrographi con-
fecto, et penes præfatos Principem et
Magnates remanenti, quilibet nostrûm
sigillum suum fecit apponi.
" Prædicti vero Princeps et Magnates
in manu Alani Yrewyn, Nuncii nostri,
similiter præstitis fide sua, et tactis
sacrosanctis Evangeliis, juramento, con-
simili scripto hujus confœderationis et
amicitiæ, penes nos remanenti, in tes-
timonium, singula sigilla sua appo-
suerunt."
Letter E, page 28.
The letter of. the "Community of
Scotland, directed to Edward the First,
from Brignam," is important and curi-
---
NOTES AND ILLUSTRATIONS. 355
ous. It contains the names of the bishops,
earls, abbots, priors, and barons of Scot-
land, as they stood in 1289. I subjoin it
from the Fœdcra, vol. ii. p. 471.
"Litera Communitatis Scotice, per
quam consulunt Regi Angliœ quod
Matrimoniuin fiat inter Primogeni-
tum suum etNatam Regis Norwegiœ,
Hœredem Scotiœ; et etiam per quam
petunt quod Rex Angliœ, concedat eis
Petitionem suam, quam petituri sunt
per Nuncios suos, in Parliamento
ipsius Regis
"A Tres noble Prince Sire Edward,
par la grace de Dcu, Roy do Engletcre,
Seygnur de Yrlaund, et Duk de Aqui-
tain.
Guillame e Robert, par meme cele grace,
de Scint Andrcu et de Glasgu Eves­
ques.
Johan Comyn, et
James Seneschal de Escocc, Gardcyns
du Reaume de Escoce.
Maheu, Evesque de Dunkcldin,
Archebaud, Evesk de Moref,
Henry, Eveske de Abirdene,
Guillame, Evesque dc Dunblain,
Marc, Evesque de Man,
Henry, Evesque dc Gauway,
Guillam, Evesque de Breehin,
Alayn, Evesque de Catenes,
Robert, Evesque de Ros, et
Laurence, Evesquc de Ergaythil.
Contes.
Maliz de Stratherne,
Patrick de Dunbar,
Johan Comyn de Buchan,
Dovenald dc Mar,
Gilbert de Hunfrauvill de Anegos,
Johan de Asteles,
Gauter de Meneteth,
Roberd de Brus de Carrik,
Guillam de Ros,
Maucolom de Lovena us.
Guillam de Sotherland, et
Johan de Gatenes.
Abbes.
Dc Kelquou,
De Meuros,
De Dunfermlin,
De Aberbrothok,
De la Seinle Croys,
De Cambuskind,
Dc Kupre,
De Driburg,
De Neubotil,
De Passelay,
De Jedeworth,
De Londors,
De Balmorinauch,
De Glenluce,
De Kilwynnin,
De Incheafrau,
De Culros,
De Dundraynan,
De Darwonguill,
De Kinlos,
De Deer,
De Ylecolunkile, et
De Tungcland.
Priours.
Dc Seint Andrcu,
De Coldingham, et
De Leasmahagu,
Dc Pluscardin,
De Beaulou,
De Hurward,
Dc Wytherne,
De Rustinoth,
De May,
De Cononby,
Dc Blantir,
Barons.
Roberd de Brus, Seygnur de Val de
Anaunt,
Guillam de Moref,
Guillame de Soulys,
Alisaundre de Ergayl,
Alisaundre de Bayliol, de Kavers,
Geffray de Moubray,
Nichol de Graham,
Nichol de Lugir,
Ingeram de Bailiol,
Richard Siward,
Herbert de Macswell,
David le Mariscal,
Ingeram de Gynes,
Thomas Randolf,
Guillame Comyn, Seygnur de Kirke-
tolauch,
Simon Fraser,
Renaud le Chen le Pere,
Renaud le Chen le Fitz,
Andreu de Moref,
Johannes de Soules,
Nichol de la Haye,
Guillam de la Haye,
Roberd de Cambron,
Guillam de Scincler,
Patrik de Grame,
Johannes de Estrivenli,
---
C56 HISTORY OF SCOTLAND.
Johannes dc Kalentir
Johan dc Malcvile,
Johan le Seneschal,
Johan de Glenesk,
Alisaundre de Bonkyll,
Bertram de Cardenes,
Dovenald lc fit Can,
Magnus de Fctherith,
Roberd le Flemyng,
Guillam de Moref, de Drumscrgard,
David de Betune,
Guillame de Duglas,
Alisaundre de Lyndeseyc,
Alisaundre de Menetcth,
Alisaundre de Meners,
Guillam de Muhaut,
Thomas de Somervill,
Johan de Inchemartin,
Johan de Vaus,
Johan de Moref,
Maucolom de Ferendrauch, ct
Johan de Carniauch.
" Du Realme dc Escoce saluz, ct
totes honors.
" Pour la vostre bone fame, et pur la
droyture ke vous fetis si commune-
ment a tut, et pur le bon veysinage et
le grant profit, que le Reaume de Es­
coce a resceu dc vous, et voustre Pere,
et de vous Aunccstres, du tens cea en
arere.
" Sumes nus mut leez et joyus dc ac-
cones noveles, que mult de gent par-
lent, ke le Apostoyll deust aver otree
ct fet dispensacion, ke Mariage se puist
fere entre mun Sire Edward, vostre
Fitz, et Dame Margarete Reyne de Es-
coce, nostres treschere Dame, non ostant
procheynette de Saunk; et prium
vostre hautesee ke vous plese certefier
nous de ceste chose.
" Kar, si la dispensacion graunte,
vous seit grante, nus des hore, ke le
manage de eus face, otreom e nostre
accord ; et nostre assent ydonom ; et ke
vous facez a nus les choses, que nos mes-
sages, que nous enverrom a voustre
Parlement, vous mustrunt de par nus,
que renables serrunt.
" Et, si ele seit a purchacer, nus, pur
lea grant biens e profit, que purrunt de
coe avenir al'un e le autre Reaume,
mettrom volenters conseyl, ensemble-
ment ovesque vous, coment ele seit
purchace.
"E, pur ceste chose, e autres, ke
tuchent l'estat du Reaume de Escoce,
Sur queux nous aurom mester de aver
seurte de vous; nous, avauntdyt Gar­
deyns, Evesques, Countes, Abbes,
Priurs, e Barons, enveroms a vous, a
Londres, a vou.stre Parlement dc Pasch
prochein avenir, de bone gent du
Reaume do Escoce, pur nus et pur
eus, et pur tote la Commune dc Es-
coce.
" Et, en tesmonage des avauntditea
choses, nous, Gardeyns du Reaume,
Prelats, Countes, e Barones avauntdit,
en nom de vous, et de tote la Commune,
le Seel Comun, que nus usom en Escoce,
en nom de nostre Dame avauntdyte,
auvom fet mettre a ceste lettre.
"Done a Briggeham, le Vendredy
procheyn a pres la Feste Seint Gregorie,
le an le nostre Seygnur, 1289."
Letter F, page 46.
Lord Hailes is at a loss to settle the
exact chronology of this surrender by
Baliol, but Pryime enables us to do this
with considerable accuracy. The scroll
of the resignation was prepared at Kin­
cardine on the 2d July. The penance
took place in the churchyard at Strath­
kathro on the 7th of the same month ;1
and the deed recording it is of the same
date : after which, on the 10th July,
at the castle of Brechin, in the presence
of Edward himself, Baliol made his
final resignation, and a second instru­
ment was drawn up exactly in the same
terms as the scroll prepared at Kincar­
dine. Bower, in his additions to Fox-
dun, is evidently in an error when he
states that Baliol underwent his pen­
ance and made his resignation at Mon-
trose. Prynne, Edw. I. pp. 647, 650,
651. Baldred Bisset, the Scottish en­
voy at Rome, who was sent there to
confute the claims of Edward to the
superiority over Scotland, may perhaps
have founded his accusation, that Ed­
ward had forged the instrument of
Baliol's resignation, upon this discre­
pancy in the dates.
Letter G, page 47.
A Diary of the Expedition of Edward
in the year 1296, preserved in the Cot­
tonian Collection, gives the folloAving
account of his progress. It is chiefly
valuable from its fixing dates and
places, being extremely meagre in de­
tail. It is written in old French, and
is probably nearly coeval with the
events it describes. The corruption of
1 I find in Mr Chambers's agreeable work,
entitled "The Picture of Scotland," vol. ii.
p. 255, that the tradition of the country
affirms the penance of Baliol to have been
performed at Strathkathro.
---
NOTES AND ILLUSTRATIONS. 357
the Scottish names in it is very great.
It has been published in a valuable
Miscellany edited by the Bannatyne
Club.1
On the 28th March 1296, being Wed­
nesday in Easter Week, King Edward
passed the Tweed and lay in Scotland,
At Coldstream Priory.
Hatton, or Haudene, March 29, Thurs­
day.
Friday, being Good-Friday, 30th March.
Sack of Berwick.
Battle of Dunbar, April 24, 26, 27.
Edward marches from Berwick to Cold-
ingham, 28th April; to Dunbar.
Haddington, Wednesday, Even of As­
cension, May 3.
Lauder, Sunday, May 6.
Rokesburgh, Monday, May 7, where
Edward remained fourteen days.
Jedworth, May 23.
Wyel, Thursday, May 24 ; Friday, 25,
to Castleton ; Sunday, 27, again to
Wyel.
Jedworth, Monday, May 28.
Rokesburgh, Friday, June 1.
Lauder, Monday, June 4.
Newbattle, Tuesday, June 5.
Edinburgh, Wednesday, June G. Siege
of Edinburgh.
Linlithgow, June 14.
Stirling, Thursday, June 14. At Out-
reard, June 20.
Perth, Thursday, June 21, where he
remained three days.
Kinclevin, on the Tay, June 25.
Cluny, Tuesday, June 26. Abode there
till July 1.
Entrecoit, Monday, July 2.
Forfar, Tuesday, July 3.
Fernwell, Friday, July 6.
Montrose, Saturday, July 7. Abode
till the 10th.
Kincardine in the Mearns, Wednesday,
July 11.
Bervie, Thursday, July 12.
Dunn Castle, Friday, July 13.
Aberdeen, Saturday, July 14.
Kinkell, Friday, July 20.
Fyvie, Saturday, July 21.
Banff, Sunday, July 22.
Invercullen, Monday, July 23.
In tents on the river Spey, district of
Enzie, Tuesday, July 24.
Repenage, in the county of Moray,
Wednesday, July 25.
1 The Antiquarian Society of London have
also printed the Diary, with a learned pre-
face by Sir Harris Nicolas, in their Transac­
tions. A coincidence of this kind shews
that there is a valuable spirit of research at
work in both countries.
Elgin, Thursday, July 26. Remained
for two days.
Rothes, Sunday, July 29.
Innerkerack, Monday, July 30.
Kildrummie, Tuesday, July 31.
Kincardine in the Mearns, Thursday,
August 2.
Brechin, Saturday, August 4.
Aberbrothoc, Sunday, August 5.
Dundee, Monday, August 6.
Baligamach, the Redcastie, Tuesday,
August 7.
St Johnston's, Wednesday, August S.
Abbey of Lindores, Thursday, August
9. Tarried Friday.
St Andrews, Saturday, August 11.
Markinch, Sunday, August 12.
Dunfermline, Monday, August 13.
Stirling, Tuesday, August 14. Tarried
Wednesday 15th.
Linlithgow, Thursday, August 16.
Edinburgh, Friday, August 17. Tarried
Saturday 18th.
Haddington, Sunday, August 19.
Pykelton, near Dunbar, Monday, Au­
gust 20.
Coldingham, Tuesday, August 21.
Berwick, Wednesday, August 22.
Having spent twenty-one weeks in his
expedition.
Letter H, page 55.
Lord Hailes observes, p. 253, vol
i., that "Buchanan, following Blind
Harry, reports that the bridge broke
down by means of a stratagem of Wal­
lace." Buchanan, however, expressly
says that the "bridge broke down
either by the artifice of the carpenter
who had loosened the beams, as our
historians assert, or from the weight of
the English horse, foot, and machin­
ery."
Letter I, page 63.
Hemingford, vol. i. p. 165, says
these compact bodies were in a circular
form—" qui quidem circuli Schiltronis
vocabantur." Schiltron seems to denote
nothing more than a compact body of
men. It is thus used by Barbour in
his poem of "The Bruce," where he do-
scribes the battle of Bannockburn—
"For Scotsmen that them hard essayed,
That then were in a schiltrum all."
Walsingham, p. 75, affirms that Wal­
lace fortified the front of his posi­
tion with long stakes driven into the
---
358 HISTORY OF SCOTLAND.
ground, and tied together with ropes,
so as to form a hedge. I find no men­
tion of this in Hemingford; nor in
Fordun, Winton, or Trivet. Walsing-
ham's account is vague, and unlike
truth. He tells us that Edward first
commanded the attack to be made by
the Welsh, and that they refused ; upon
which a certain knight addressed the
king in two monkish rhyming verses,
in Latin. Hemingford's narrative, on
the other hand, which I have chiefly
ollowed, is strikingly circumstantial
nd interesting. He describes the
battle of Stirling as if he had the
particulars from eye-witnesses; and
Lord Hailes conjectures that this ac­
count of the battle of Falkirk was
taken from the lips of some who had
been present.
Letter K, page 64.
Trivet, p. 313, says these two reli-
gious knights were slain in the beginning
of the battle ; but I prefer the autho­
rity of Hemingford, p. 165, and Lang-
toft, p. 305-6. Lord Hailes, following
Mathew of Westminster, p. 431, says
that Bryan de Jaye was Master of the
Knights Templars in England; but it
is certain, from the Rotuli Scotiæ, 29
Edward I. mm. 12. 11., that he was
Master of that Order in Scotland.
We there find, "Brianus de Jaye,
Preceptor Militiæ Templi in Scotia."
There is a long note in Hailes upon
the battle of Falkirk, Annals, vol. i.
p. 262. Its object is to prove that
every account of the battle of Falkirk
which has been given by Scottish his­
torians, from Fordun to Abercromby.
is full of misrepresentation, and, on
this subject, the English historians are
alone to be trusted. In these misre­
presentations of the Scottish historians,
he includes the assertion, " that there
were disputes between Wallace and the
Scottish nobles; that some of these
nobles were guilty of treachery in
abandoning the public cause ; and that,
on the first onset, the Scottish cavalry
withdrew, without striking a blow."
That there was treachery among the
Scottish nobles is, however, satisfac­
torily proved by Hemingford, an Eng­
lish historian. That the Scottish horse
fled without striking a blow, " absque
ullo gladii ictu" when the battle had
just begun, is asserted by the same
writer, Hemingford; yet, singular to
say, this does not appear to Hailes to
be anything like treachery. The Scot­
tish cavalry were a body of a thousand
armed horse, amongst whom were the
flower of the Scottish knights and
barons : are we to believe that these,
from mere timidity, fled, before a lance
was put in rest, and upon the first look
of the English? But the note is also
strikingly inconsistent with this author's
own statement at p. 254, where, in giv­
ing an account of the feelings of the Scot­
tish barons with regard to Wallace, he
asserts that " his elevation wounded their
pride; his great services reproached
their inactivity in the public cause;"
that it was the language of the nobility,
"We will not have this man to rule
over us;" and that "the spirit of dis­
trust inflamed the passions and per­
plexed the counsels of the nation."
This was the picture given by this his­
torian of the sentiments of the Scottish
nobles on 29th March 1298. Yet, when
the Scottish historians observe that at
the battle of Falkirk, only four months
after this, the Scottish nobility were
weakened by dissensions, and their
army enfeebled by envy of Wallace,
the account is deemed wholly in­
credible.1
Letter L, page 65.
"Wherfor the Kyng, upon the Maudelyn day,
At Fowkyrke fought with Scottes iu great
array.
Where Scottes fled and forty thousand slaine;
And into Fiffes he went, and brent it clene,
And Andrew's toune he wasted then full
plaine ;
Blackmanshyre and Menteth, as men mene,
And on the ford of Tippour, with host I wene,
Bothvile, Glasgowe, and to the toune of Are,
And so to Lanarke, Lochmaban, and Annand
there."
—Hardynge's Chronicle, 8vo, London, 1543,
fol. clxv.
Letter M, page 68.
The negotiations between Philip and
Edward, in 1297, on the point of in­
cluding the kingdom of Scotland under
the truce and pacification entered into
at Tournay, were unknown to Lord
Hailes, as the document which contains
so full and explicit an account of them
was not published at the time he wrote
his history. They throw an important
1 See Mr Aikman's Translation of Bucha-
nan's History, (pages 410, 413, and 416,) for
some remarks on Lord Hailes' accounts of
the battles of Falkirk and Roslin, and his
apology for Menteith.
---
NOTES AND ILLUSTRATIONS. 359
light on the conduct of Comyn, and the
higher Scottish nobility, who refused to
join Wallace in his resistance to Ed­
ward ; as they prove that one motive
for their refusal might be the hope
that Philip's representations would in­
duce Edward to include them and their
country in the articles of truce, and in
the subsequent treaty of peace, of which
these articles were understood to be the
basis. Even so late as the battle of
Falkirk, July 22, 1298, Comyn, who
drew off his vassals, and took no part
in the day, might have indulged some
hope that Philip's mediation, and the
representations of the Pope, would suc­
ceed in restoring peace to Scotland, and
thus save his own lands, and the estates
of the Scottish nobles. For Edward
did not give his final answer, by which
he totally excluded Scotland, and all
its subjects, from the articles of truce
and pacification, till the 19th August
1298, (Rymer, vol. i. new edit. p. 898,)
when he was in camp at Edinburgh.
At the same time, although these nego­
tiations give some explanation of the
motives which might have influenced
the nobles of Scotland in refusing to act
with Wallace, they afford no excuse for
their weak and selfish conduct.
Letter N, page 75.
This account of the battle of Roslin
is taken from the English historians,
Hemingford, Trivet, and Langtoft, and
from our two most valuable and authen­
tic Scottish historians, Winton and
Fordun. Lord Hailes, who generally
follows the English historians, has given
a description of the battle in the shape
of a critical note. He appears not to
have consulted, when he composed his
text, the curious and minute account
given by Langtoft, vol. ii. p. 319, al­
though he afterwards quotes him in the
corrections and additions. So far from
attempting to throw any veil over the
events of the day, Langtoft is open and
candid as to the entire defeat of the
English. The same historian has fallen
into a mistake, when he states the fact,
in saying that Segrave, instead of fall­
ing back, rashly advanced and attacked
the Scots. Segrave was surprised and
attacked in his encampment by the
Scots; and so complete was the sur­
prise, that his son and brother were
taken in bed. As to the ridiculous
story of Sir Robert Neville miraculously
retrieving the day, and the invulnerable
qualities conferred on those present at
mass, it is a monkish tale, utterly un­
worthy of belief, as Langtoft informs
us that Neville was slain. There is
some inconsistency in the manner in
which this historian has recounted the
battle of Roslin. He was aware, he
tells us, that the English historians,
whom he follows, gave a partial ac­
count ; yet this account he incorporates
into his text. He has brought no well-
grounded argument against the narrative
of Winton and Fordun, which is sup-
ported by the English historian, Lang-
toft ; yet he insinuates that the Scottish
historians may have exaggerated the
successes of the Scottish army at Roslin;
and with this affectation of superiority
to national prejudice, he quietly passes
them over. Tyrrel, vol. iii. p. 153,
says, quoting Walsingham and the
Chron. Abingdonense, that Wallace
headed the Scots in this battle; but I
find no authority in the Scottish writers
for such an assertion.
Letter 0, page 77.
The fortalice at Lochindorb is thus
described by Mr Lewis Grant, in his
Account of the Parish of Cromdale :—
" A thick wall of mason work, twenty
feet high even at this period, and sup­
posed to have been much higher, sur­
rounds an acre of land within the loch,
with watch-towers at every corner, all
entire. The entrance to this place is a
gate built of freestone, which has a
grandeur in it easier felt than expressed.
Several vestiges of houses are found
within the walls, besides those of a
church, which, without difficulty, can
still be traced in the ruins. Great rafts,
or planks of oak, by the beating of the
waters against the old walls, occasionally
make their appearance. Tradition says,
and some credit is due to the report,
that the particular account of this build­
ing was lost in the days of King Edward
the First of England." Had the worthy
clergyman who wrote this studied the
history of Scotland in Fordun, infinitely
the most valuable of all our historians,
he would there have found that Edward,
"in propria persona ad Lochindorb per-
venit, et ibidem aliquamdiu moram
faciens, partes boreales ad pacem cepit."
It is very delightful to find tradition
thus throwing its shadowy reflection
upon history, and history its clear and
certain light upon tradition.
---
360 HISTORY OF SCOTLAND.
Letter p, page 77.
Kildrummie, of which there are still
considerable remains, will be found
described in Stat. Account, vol. xviii.
p. 416.—Edward's progress, as ascer­
tained by dates and authentic instru­
ments in Rymer and Prynne, was as
f ollows :—
Newcastle, 7th May.—Prynne, p. 1016.
Morpeth, 9th May.—-Prynne, pp. 1015,
1016.
Rokesburgh, 21st May.—Prynne, p.
1017.
Edinburgh, 4th June.
Linlithgow, 6th June.—Rymer, vol. ii.
old edit, p. 931.
Perth, 10th June.—Rymer, vol. ii. p.
934.
Clackmannan, 12th June.
Perth again, 28th June.—Prynne, p.
1016.
Same town, 10th July.—Prynne, p.
1009.
Kincardine, 17th August,—Prynne, p.
1012.
Aberdeen, 24th August.
Banff, 4th September.—Prynne, p. 1021.
Kinloss, in Moray, 20th September.
Kildrummie, 8th October.—Prynne, p.
1017.
Kinloss again, 10th October.
Dundee, 20th October.— Prynne, p. 1015.
Cambuskynel, 1st November.—Prynne,
p. 1022.
Kinross, 10th November.
Dunfermline, 11th December.
Letter Q, page 78.
Lord Hailes observes, vol. i. p. 276,
that "the Scots fondly imagined that
Edward would attempt to force the
passage, as the impetuous Cressisgham
had attempted in circumstances not
dissimilar; but," he adds, "the pru­
dence of Edward frustrated their ex­
pectation ; having discovered a ford at
some distance, he passed the river at
the head of his whole cavalry." This
is quite erroneous ; and Trivet, p. 337,
whom he quotes on the margin as his
authority, says something very differ­
ent. He tells us, that Edward did
intend to pass the river by the bridge,
which, on his arrival, he found had been
already destroyed by the Scots, that all
passage thereby might be cut off.
Baulked in his expectation, "Edward
pitched his tents and prepared for din­
ner, when John Comyn approached on
the opposite bank with the whole power
of the Scots ; upon whose appearance
the English army, seizing their arms,
mounted their horses, and with these
the king himself, entering the river,
found, by the direction of the Lord, a
ford for himself and his soldiers."
Edward, therefore, whose prudence
Lord Hailes commends, because he did
not imitate the impetuous Cressingham,
had actually intended to follow his
example, and pass the river by the
bridge ; and the Scots, whom he repre­
sents as fondly imagining he would do
so, evidently entertained no such idea,
because they burnt the bridge to pre­
vent him from passing the river.
Letter R, page 78.
Much as I respect the ability of Dr
Lingard, I cannot altogether acquit him
of prejudice in his narrative of Scottish
affairs. Speaking, p. 328, vol. iii., of
the conditions offered by Edward to
Comyn, the Bishop of Glasgow, Sir
Simon Fraser, and the rest, he adds,—
"When the rest of his countrymen
made their peace with England, his
(that is, Wallace's) interests were not
forgotten. It was agreed, that he also
might put himself on the pleasure and
grace of the king, if he thought pro­
per ;" and he adds this note—" Et
quant a Monsieur Guilliam de Galeys
est accordé qu'il se mette en la volunte,
et en la grace notre le Seigneur le Roi,
si lui semble que bon soit." Lord
Hailes "thinks it doubtful whether
the words ' si lui semble ' refer to Wal­
lace or the king; but they evidently
refer to Wallace. The offer is made in
the same manner to the Bishop of Glas-
gow, the Steward, &c, ' si lour semble
que bon soit.'" By these expressions
of the historian, the reader might be
led to believe that Edward's conduct
to his Scottish rebels was not ungene­
rous or harsh ; and that to Wallace,
the same, or nearly the same, terms
were offered as to the rest of his
countrymen. This is the impression
made by the words, " it was agreed that
he also," and by the observation, "the
offer is made in the same manner."
But it is proved by a state paper pub­
lished in Prynne's Edward the First,
pp. 1119, 1120, that to Comyn, the
Bishop of Glasgow, Sir Simon Fraser,
and the rest, Edward expressly stipu­
lated, " that their life and limbs should
be safe—that they should not suffer
---
NOTES AND ILLUSTRATIONS. 361
punishment or lose their estates­ and
that the ransom they should pay, and
the fines to be levied on them for their
misdemeanours, should be referred by
them to the good pleasure of the king. "
This last condition related. only to
Comyn, and those who surrendered
themselves along with him. Wishart
the Bishop of Glasgow, Sir Simon
Fraseir, James the Steward of Scotland,
.John Soulis, and a few others, were
promised security for life and limb,
freedom from imprisonment, and that
they should not lose their lands; but,
according to their degrees of guilt in
Edward's mind, a fine of more or less
extent, and a banishment for a longer
or shorter time, was inflicted on them ;
which conditions they were to accept,
no doubt, " if to them seemed proper; "
" si lour semble que bon soit." And
what, by the same authentic deed, was
promised to Wallace ? The terms were,
an unconditional surrender of himself
to the Kill and mercy of the king, terms
which every man knows were almost
equivalent to a declaration, that he was
doomed to be executed the moment he
was taken ; and yet Dr Lingard gravely
tells us, " Wallace's interests were not
forgotten." Had he turned to Langtoft,
p. 324, he would have found, that Wal­
lace did, like the rest, propose to sur­
render himself, on the assurance of
safety in life, limbs, and estate; but
that Edward cursed him by the fiend
for a traitor, and set a price of three
hundred marks on his head. This was
an attention to his interests with which,
we may presume, he would willingly
have dispensed.
Letter S, page 81.
The best, and evidently the most
authentic, accounts of this memorable
siege, are to be found in Langtoft's
Chronicle, in Hemingford, Trivet, and
Walsingham. Math. Westminster, in
his turgid work, entitled " The Flowers
of History," has given us a lengthy nar­
rative, interwoven with speeches of his
own composition, which he puts into
the mouth of Edward. The last scene
of the surrender of Olifant is in King
Cambyses' vein; but there is a great
want of keeping in Mathew's composi­
tion. Edward, on receiving the sup­
pliants, and hearing their appeal to his
mercy, tells them it is his pleasure that
they should be hanged and quartered;
after which he burst into tears. The
names of the leaders in this defence of
Stirling are preserved in Rymer. They
are the following :—
Domini Willielmus Olyfard,
Willielmus deDupplyn, milites,
Fergus de Ardrossan,
Robinus de Ardrossan, frater
ejus,
Willielmus de Ramseya,
Hugo de Ramseya,
Radulfus de Haleburton,
Thomas de Knellhulle,
Thomas Lellay,
Patricias de Polleworche,
Hugo 01yfard,
Walterus Olyfard,
Willielmus Gyffard,
Alanus de Vypont,
Andreas Wychard,
Godefridus le Botiller,
Johannes le Naper,
Willielmus le Scherere,
Hugo le Botiller,
Joannes de Kulgas,
Willielmus de Anant,
Robertus de Ranfru,
Walterus Taylleu,
Simon Larmerer,
Frater Willielmus de Keth ordinis
Sancti Dominici Prædicato-
rum,
Frater Petrus de Edereston de domo
de Kelsou ordinis Sancti
Benedicti.
—Rymer, Fœdera, new edit. p. 9GG.
The capitulation is dated July 24, 1304.
Letter T, page 82.
The fact, that Wallace's four quarters
were sent to different parts of Scotland
and England, is mentioned by most
ancient historians ; but I find the notice
of the towns to which they were sent
in the MS. Chron. of Lanercost, a valu­
able historical relic preserved in the
library of the British Museum, (Cotton
Library, Claudian D. vii. Art. 13),l
some extracts from which were com­
municated by Mr Ellis to Dr Jamieson.
See Preliminary Remarks to Wallace,
p. 12. This is the passage—" Captus
fuit Willelmus Waleis per unum Scot-
turn, scilicet per Dominum Johannem
de Mentiphe, et usque London ad Regem
adductus, et adjudicatum fuit quod
traheretur, et suspenderetur, et decol-
laretur, et membratim divideretur, et
quod viscera ejus comburerentur, quod
1 Since printed by the Maitland Club, and
one of their most valuable works.
---
362 HISTORY OF SCOTLAND.
factum est; et suspensum est caput
ejus super pontem London, armus
autem dexter super pontem Novi Castri
super Tynam, et armus sinister apud
Berwicum, pes autem dexter apud
villam Sancti Johannes, et pes sinister
apud Aberdene."—Fol. 211. See also
"Illustrations of Scottish History," p.
54, edited by Joseph Stevenson, Esq., a
valuable work presented to the Maitland
Club, by Mr Steven of Polmadie.
Letter U, page 83.
Lord Hailes was fond of displaying
his ingenuity in whitewashing dubious
characters ; and his note upon Sir John
Menteith is an instance of this. He
represents the fact, that his friend
Menteith betrayed Wallace to the Eng­
lish, as founded upon popular tradition,
and the romance of Blind Harry, Wal-
lace's rhyming biographer ; whom, he
dds, every historian copies, but none
but Sir Robert Sibbald ventures to
quote; and, in his Corrections and
Additions, he observes, that "his
Apology for Menteith has been received
with wonderful disapprobation by many
readers, because it contradicts vulgar
traditions, and that most respectable
authority, Blind Harry."
In reply to this it may be observed,
that the fact of Wallace being betrayed
and taken by Sir John Menteith is cor­
roborated by a mass of ancient his­
torical authority, both from English
and Scottish writers, superior to what
perhaps could be brought for most
other events in our history; and that
as these writers lived long before Blind
Harry, he may have copied from them,
but it is impossible they could have
copied from him. I shall shortly give
the English and Scottish authorities for
the fact, and leave the reader to make
his own inferences.
We have already seen, from the last
note, that the Chronicle of Lanercost
Priory, a valuable MS. of the thirteenth
century, preserved in the British
Museum, Claudian D. vii. 13, and now
printed by the Maitland Club, has this
passage : — " Captus fuit Willelmus
Waleis per unum Scottum, scilicet per
Dominum Johannem de Mentiphe, et
usque London ad Regem adductus, et
adjudicatum fuit quod traheretur, et
suspenderetur, et decollaretur."1 We
cannot be surprised that Lord Hailes
should have been ignorant of this pas-
1 Chronicle of Lanercost, p. 203.
sage, as he tells us, Annals, vol. ii. p.
310, he had not been able to discover
where the MS. Chronicle of Lanercost
was preserved.
The next piece of evidence, of Men-
teith's having seized Wallace, is con­
tained in Leland's extract from an
ancient MS. chronicle, which Hailes
has elsewhere quoted. I mean the
Scala Chronicle, preserved in Corpus
Christi Library, Cambridge.2 In Le-
land's Collect, vol. i. p. 541, we have
this passage from the Chronicle:—
" Wylliam Waleys was taken of the
Counte of Menteth about Glaskow, and
sent to King Edward, and after was
hangid, drawn, and quarterid at Lon­
don." This is Leland's translation of
the passage, which in all probability is
much more full and satisfactory in the
original. Yet it is quite satisfactory as
to Menteith's guilt.
The next English authority is Lang-
toft's Chronicle, which Hailes has
himself quoted in his Notes and Cor­
rections, vol. ii. p. 346. It is curious,
and, as to Menteith's guilt, perfectly
conclusive :—
"Sir Jon of Menetest sewed William so nehi,
He took him when he wend lest, on nyght
his leman bi;
That was thorght treson of Jak Schort his
man ;
He was the encheson, that Sir Jon so him
nam."—P. 329.
We learn from this, that Sir John
Menteith prevailed upon Wallace's
servant, Jack Short, to betray his
master; and came, under cover of
night, and seized him in bed, " his
leman by," and when he had no sus­
picion of what was to happen. How
Hailes, after quoting this passage,
which was written more than two cen­
turies before Blind Harry, should have
represented this poor minstrel as the
only original authority for the guilt of
Menteith, is indeed difficult to deter­
mine.
Fordun, who must have been born in
the earlier part of the reign of Robert
the First, received materials for his
history from Wardlaw, bishop of Glas­
gow. This prelate died in 1386. Say
that Fordun concluded his history in
1376, ten years before Wardlaw's death,
it will follow that it was ninety-four
years before the poem of Blind Harry,
the date of whose poem is somewhere
2 Since this printed by the Maitland Club.
The passage will be found at p. 126.
---
NOTES AND ILLUSTRATIONS. 363
about 1470. Let us hear how he speaks
of the death of Wallace :—
"Anno Domini M.CCCV., Willel-
mus Wallace per Johannem de Menteth
fraudulenter et prodicionaliter capitur,
Regi Angliæ traditur, Londoniis de-
membratur."—Vol. iv. p. 996.
Winton, against whose credit as a
historical authority Hailes could not
possibly have objected, finished his
chronicle in 1418, fifty­two years before
Blind Harry's poem was written. Yet
Winton thus speaks of the capture of
Wallace, vol. ii. p. 130:—
" A thousand thre hundyr and the fyft yere
Efter the byrth of our Lord dere,
Schyre Jon of Menteth in tha day is
Tuk in Glasco Willame Walays."
And the chapter where this is men­
tioned is entitled—
" Quhen Jhon of Menteth in his day is,
Dissawit gud Willame Walays."
Bower, the continuator of Fordun,
and who possessed his manuscripts, Avas
born in 1385, and is generally believed
to have published his continuation
about 1447, sixty-two years before
Blind Harry's poem. He preserves,
however, the very words of his master
Fordun, as to the guilt of Menteith,
and afterwards refers to him in some
additions of his own, as the acknow­
ledged traitor who had seized Wallace.
Vol. ii. pp. 229, 243.
With these authors—Fordun, Win-
ton, and Bower—Lord Hailes was in­
timately acquainted. He has, indeed,
quoted the last of them, Bower, on
the margin. He must have known
that they were dead before the author
of the Metrical Romance of Wallace
was born. Annals, vol. i. p. 281. And
yet he labours to persuade the reader
that the tale of Wallace's capture by
Menteith rests on the single and re­
spectable authority of Blind Harry!
He has also remarked, that he has yet
to learn that Menteith had ever any
intercourse or friendship and familiarity
with Wallace. Whether there was any
friendship or familiarity between Men-
teith and Wallace is not easily dis­
covered, and is of little consequence ;
yet that Menteith acted in consort with
Wallace, and must therefore have had
intercourse with him, is proved by the
following passage from Bower, pre­
served in the Relationes Arnaldi Blair :
—" In hoc ipso anno (1298) viz. 28 die
mensis Augusti, I)ominus Wallas Scotiæ
custos, cum Johanne Grahame, et
Johanne de Menteith, militibus necnon,
Alexandra Scrymgeour, Constabulario
villæ de Dundee et vexillario Scotiæ,
cum quinquagentis militibus armatis,
rebelles Gallovidienses punierunt, qui
Regis Angliæ et Cuminoram partibus
sine aliquo jure steterunt."1
Having given these authorities, all of
them prior to Blind Harry, it is un­
necessary to give the testimony of the
more modern writers. The ancient
writers prove incontestably, that Sir
John de Menteith, a Scottish baron,
who had served along with and under
Wallace against the English, deserted
his country, swore homage to Edward,
and employed a servant of Wallace to
betray his master into his hands ; that
he seized him in bed, and delivered him
to Edward, by whom he was instantly
tried, condemned, and hanged. Yet
all these circumstances are omitted by
Lord Hailes, who appears surprised
that vulgar tradition should continue
from century to century to execrate the
memory of such a man.
Dr Lingard, in his History of Eng­
land, vol. iii. pp. 328, 329, has attempt­
ed to diminish the reputation of Wal­
lace. He remarks, that he suspects he
owes his celebrity as much to his execu­
tion as to his exploits ; that of all the
Scottish chieftains who deserved and
experienced the enmity of Edward, he
alone perished on the gallows; and that
on this account his fate monopolised
the sympathy of his countrymen, who
revered him as the martyr of their in­
dependence ; he represents the accounts
of his strength, gallantry, and patriotic
efforts, as given by Scottish writers who
lived a century or two after his death,
and who therefore were of no credible
authority; and he concludes with an
eulogy on the clemency of Edward, who
did not forget the interests of Wallace
when the rest of his countrymen made
their peace with England. These ob­
servations will not bear examination ;
for, first, it is a mistake to say, that of
all the Scottish chieftains who deserved
Edward's enmity, Wallace was the only
one who perished on the gallows. Sir
Nigel Bruce, Sir Christopher Seton,
John Seton, the Earl of Athole, Sir
Simon Fraser, Sir Herbert de Morham,
Thomas Boys, Sir David Inchmartin,2
1 Dr Jamieson, in his Notes on Wallace, p.
403, has ably combated the scepticism of
Hailes as to Menteith. The above passage is
quoted from the Relationes Arnaldi Blair,
and seems to have been a part of Bower's
additions to Fordun.
2 See supra, pp. 94-97.
---
364 HISTORY OF SCOTLAND.
Sir John de Somerville, Sir Thomas and
Sir Alexander Bruce, both brothers of
the king, and Sir Reginald Crawfurd,
were all hanged by Edward's orders in
the course of the year 1306, within a
year of the execution of Wallace. So
utterly untenable is the ground on
which Dr Lingard has founded his con­
jecture, that Wallace owes his celebrity
" to his execution."
His next remark is equally unfortu­
nate. The writers who have given us
an account of the exploits of Wallace,
did not live, as he imagines, a century
or two after his death. John de Fordun,
whom the historian, in his note on p.
328, includes amongst these writers, was
born, as we have said, early in the reign
of King Robert Bruce. He certainly
received materials for his history from
Bishop Wardlaw, who died in 1386. If
we suppose that he began his history
thirty years before, and that he was
thirty years old when he commenced
writing, this will give us 1326 for the
year of his birth. So that Fordun was
born twenty-one years after Wallace's
execution. Even in the most favourable
possible way in which the calculation
can be taken, Fordun wrote his history
only eighty-one years after Wallace's
execution; and taking fifty as the aver­
age life, it will follow he was born only
thirty-one years after that event. Win-
ton finished his history in 1418. He
was born probably not more than fifty
or sixty years after Wallace's death, and
might have received his information
from old men who had known him.
As to Dr Lingard's praise of the
clemency of Edward towards Wallace,
the unsubstantial grounds on which it
is founded have been already noticed ;1
but I cannot help remarking, that this
historians whole account of Wallace
does little justice to this great man.
He begins by throwing a doubt over his
early history. " Historians conjecture,"
he says, "that Wallace was born at
Paisley, and they assert that his hos­
tility to the English originated more in
the necessity of self-preservation than
the love of his country. He had com­
mitted a murder, and fled from the
pursuit of justice to the woods." Such
may be the vague assertion of the Eng­
lish historians ; but Bower, an excellent
authority, intimates a contrary opinion.
He asserts that Wallace's hostility to
the English arose from his despair at
beholding the oppression of his relations
1 Page 360, letter R.
and countrymen, and the servitude and
misery to which they were subjected.
Fordun a Goodal, vol. ii. p. 169.
He next observes, that after the sur­
prise of Ormesby the Justiciary, by Wal­
lace and Douglas, other independent
chieftains arose in different counties,
who massacred the English, and com­
pelled their own countrymen to fight
under their standards. These other
independent chieftains are unknown to
the contemporary historians, English
or Scottish. But they do not appear
upon the stage without a use. On the
contrary, they first multiply, like Fal-
staff's men in buckram, "into numer­
ous parties," and then act a principal
part in the next sentence ; for the
historian goes on to observe, "that the
origin and progress of these numerous
parties had been viewed with secret
satisfaction by the Steward of Scotland
and Wishart the Bishop of Glasgow,
who determined to collect them into
one body, and to give their efforts one
common direction. Declaring them­
selves the assertors of Scottish indepen­
dence, they invited the different leaders
to rally around them ; and the summons
was obeyed by Wallace and Douglas,
by Sir Alexander Lindsay. Sir Andrew
Moray, and Sir Richard Lundy."—Vol.
iii. p. 305. This last sentence has not,
as far as I can discover, a shadow of
historical authority to support it. The
numerous independent parties and chief­
tains who rose in different counties; the
secret satisfaction with which they were
contemplated by the Bishop of Glasgow
and the High Steward ; their determin­
ation to collect them into one body, and
to give them one common direction;
their declaring themselves the assertors
of Scottish independence ; their sum­
mons to the different leaders to rally
round them, and the prompt obedience
of this summons by Wallace, Douglas,
and the rest—are not facts, but the vivid
imaginations of the historian : and the
impression they leave on the mind of
the reader appears to me to be one
totally different from the truth. The
Steward and the Bishop of Glasgow are
the patriot chiefs under whom Douglas
and Wallace, and many other indepen­
dent chieftains, consent to act for the
recovery of Scottish freedom, and Wal­
lace sinks down into the humble par­
tisan, whose talents are directed by their
superior authority and wisdom. Now,
the fact was just the reverse of this.
I The Steward and Wishart, encouraged
---
NOTES AND ILLUSTRATIONS. 365
by the successes of Wallace and Douglas,
joined their party, and acted along with
them in their attempt to free Scotland;
but neither Fordun nor Winton nor
Bower give us the slightest ground to
think that they acted a principal part,
or anything like a principal part, in
organising the first rising against Ed­
ward. On the contrary, these historians,
along with Trivet and Walsingham,
Tyrrel and Carte, ascribe the rising to
Wallace alone, whose early success first
caused him to be joined by Douglas, and
afterwards by the Bishop and the
Steward, along with Lindsay, Moray,
and Lundy. Indeed, instead of playing
the part ascribed to them by Dr Lin-
gard, the patriotism of the Steward and
the Bishop was of that lukewarm and
short-lived kind which little deserves
the name. It did not outlive eight
weeks, and they seized the first oppor­
tunity to desert Wallace and the cause
of freedom. The attack upon Ormesby
the Justiciary took place some time in
May 1297 ; and on the 9th of July of
the same year did Bishop Wishart nego­
tiate the treaty of Irvine, by which he
and the other Scottish barons, with the
single exception of Wallace and Sir
Andrew Moray of Bothwell, submitted
to Edward. The historian's other hero,
the High Steward, who is brought in
to divide the glory with Wallace, was
actually in the English service at the
battle of Stirling; and although he
secretly favoured the Scottish cause, he
did not openly join with his countrymen
till he saw the entire destruction of
Surrey's army. I may remark in con­
cluding this note, that the idea of an
attack upon Wallace, and an eulogy of
the clemency of Edward, was perhaps
suggested by Carte, vol. ii. p. 290; but
his clumsy and absurd argument is dis­
carded, and a more ingenious hypothesis
is substituted in its place. On reading
over Hemingford again, I find one ex­
pression which may perhaps have had
some weight with Dr Lingard. This
historian says, speaking of Bruce, p.
120, that he joined the Bishop of Glas­
gow and the Steward, " qui tocius mali
fabricatores exstiterant. Yet this is
inconsistent with his own account in p.
118, and is not corroborated, as far as I
know, by any other historian. The
reader will find some additional re­
marks in vindication of Menteith in
my friend Mr Napier's excellent Life of
his great ancestor, the inventor of the
Logarithms, pp. 527-534.
Letter V, page 89.
A MS. in the Cottonian, Vitell. A xx,
entitled ' ' Historia Angliæ a Bruto ad
ann. 1348," has this passage :—" Anno
1306, Kal. Feb. Robertus de Brus ad
regnum Scotiæ aspirans, nobilem virum,
J. de Comyn, quod sæ proditioni noluit
assentire, in Ecclesia fratrum minorum
de Dumfres interfecit; et in festo an­
nuntiationis Virginis, gloriose in Ecclesia
Canonicorum regularium de Scone, per
Comitissam de Bohan, se fecit in regem
Scotiæ solemniter coronari. Nam ger-
manus predicte comitisse, cui hoc offici-
um jure hereditario competebat, tunc
absens in Anglia morabatur. Hanc
Comitissam eodem anno Angli ceperunt,
et in quadam domuncula lignea super
murum Castri Berwyki posuerunt, ut
eam possent conspicere transeuntes."
The original order of Edward for the
imprisonment of the Countess of Buchan
is to be found in Rymer, Fœdera, vol.
ii. p. 1014. Lord Hailes treats the tale
of the Countess of Buchan's criminal
passion for Bruce with ridicule. If,
however, we admit the fact, that the
Countess of Buchan, whose brother was
in the English interest, and whose hus­
band, according to Hemingford, vol. i.
p. 221, was so enraged that he sought to
kill her for her treason, did, alone and
unaccompanied, repair to Scone, and
there crown Bruce, it seems to give some
countenance to the story of her enter­
taining a passion for the king. The
circumstance that nothing of this second
coronation is to be found in the Scottish
historians, Barbour, Winton, or Fordun,
rather confirms than weakens the sus­
picion.
Letter W, page 94.
" Hanc autem Comitissam eodem an­
no ab Anglicis captam cum quidam peri-
mere voluissent, non permisit rex, sed
in domuncula quadam lignea super
murum Castri Berewici posita est, ut
possent eam transeuntes conspicere. "—
Trivet, p. 342. Lord Hailes, vol. ii. p.
10, has given an elaborate note to prove
the impossibility of there being any
truth in Math. Westminster's assertion,
p. 455, " that the countess was in open
day suspended at Berwick in a stone and
iron chamber, formed like a crown, as a
gaze to all passengers." He quotes the
order preserved in the Fœdera, vol. ii. p.
1014, and then observes, that it is incon-
---
366 HISTORY OF SCOTLAND.
sistent with the story related by Math.
Westminster. I confess that I can see
no such inconsistency ; on the contrary,
the one seems completely to corroborate
the other. The place of confinement,
as described in the express words of
Edward, is " to be a cage constructed in
one of the turrets of the castle of Berwick,
latticed with wood, cross-barred, and
secured with iron, in which the Cham­
berlain of Scotland, or his deputy, shall
put the Countess of Buchan." Lord
Hailes observes, that "to those who
have no notion of any cage but one for
a parrot, or a squirrel, hung out at a
window, he despairs of rendering this
mandate intelligible." I know not what
called forth this querulous remark; but
any one who has observed the turrets of
the ancient Scottish castles, which hung
like cages, on the outside of the walls,
and within one of which the countess's
cage was to be constructed, will be at
no loss to understand the tyrannical
directions of Edward, and the passage
of Mathew Westminster. It is worthy
of observation, that, in his text. Lord
Hailes has wholly omitted to notice the
severity of Edward the First to the
Countess of Buchan, simply stating,
that she was committed to close confine­
ment in England, and characterising
Edward's orders as being ridiculously
minute. Dr Lingard, vol. iii. p. 377,
softens the severity of Edward by a sup-
position, which appears to me to be in­
consistent with the tone and spirit of
Edward's order.
Letter X, page 95.
We know by the evidence of a remis­
sion under the Great Seal, communicated
by Mr Thomson, the Deputy-Clerk Re­
gister, to Dr Jamieson, that the delivery
of Sir Christopher Seton to the English
was imputed to Sir Gilbert de Carrick,
but, upon investigation, not altogether
justly, " minus juste ut verius intellexi-
mus;" and the same remission proves
that the castle of Lochdon was, by the
same knight, Sir Gilbert de Carrick, de-
liverd into the hands of the English.
Mr Thomson considers the remission as
shewing for certain that Sir Christopher
had taken refuge in the castle of Loch-
don, of which Sir Gilbert de Carrick was
hereditary keeper; but this is rather a
strong inference than a certainty. The
conjecture of the Statistical Account,
vol. xi. No. 4, Parish of Urr, in favour
of the castle of Loch Urr, seems to
be supported by pretty plausible evi­
dence.
Letter Y, page 96.
Dr Lingard observes that some of
them were murderers. I know not on
what authority he uses the plural "some
of them." Sir Christopher de Seton,
indeed, is represented by Hemingford,
p. 219, as having slain Comyn's brother,
Sir Robert; and Trivet, p. 345, points
to the same thing in the sentence,
" usque Dumfries ubi quendam militem
de parte Regis occiderat;" but the his­
torians, Barbour and Fordun, say no­
thing of it; and I suspect that all that
can be proved against Seton, is the being
present with Robert Bruce when he
stabbed Comyn. Indeed, one MS. of
Trivet says, that Seton was condemned
on account of a murder committed in a
church with his consent. See Trivet, p.
345, and the various readings at the
bottom. As to the others, I am not
aware of a single act of murder which
can be brought against them, on the
authority either of English or of Scot­
tish historians. The fealty sworn to
Edward was extorted from them either
by fetters, imprisonment, confiscation,
or the fear of death.
Letter Z, page 106.
Lord Hailes has been misled by Rymer,
who has erroneously placed a deed en­
titled " Gilbertus Comes Gloucestrie
Capitaneus pro Expeditione Scotiæ," on
the 3d December 1309, instead of 1308.
He conjectures that the siege was raised.
We may, perhaps, infer the contrary,
from the orders issued by Edward, on
the 12th of May 1309, to most parts of
England, and to Ireland also, to provide
corn, malt, peas, beans, and wine, for
his various castles in Scotland, and in
the enumeration of these, Rutherglen is
not included. The castles mentioned
are, Berwick, Roxburgh, Stirling, Edin­
burgh, Banff, Perth, Dundee, Dumfries,
Caerlaverock, and Ayr. Rotuli Scotiæ,
m. x, p. 63. Forfar is also mentioned,
in a document dated 3d December 1308,
as being at the time in possession of the
English.
Letters AA, page 114.
Hume has mistaken the numbers of
the English army who fought at Ban-
nockburn, and has been corrected by
---
NOTES AND ILLUSTRATIONS. 367
Hailes, vol. i. p. 41. Dr Lingard has
remarked, that it is impossible to ascer­
tain the exact numbers of Edward's
army. He says the most powerful earls
did not attend; but he has omitted the
fact, that although they did not come in
person, they sent their knights to lead
their vassals into the field, and perform
their wonted services. We may infer
from the mention, in the English histo­
rians, of the absence of the Earls of
Warwick, Surrey, Arundel, and Lan­
caster, that if any of the other barons or
counties had neglected to send their
powers, they would have noted the cir­
cumstance. The number given by Tyr-
rel, vol. iii. p. 260, is a hundred thou­
sand men ; and it is probable that this
is rather under than above the fact.
Letters BB, page 158.
The leonine verses, called Brucc's tes­
tament, are as follow :—
"Scotica sit guerra peditcs, mons, mossica
terra:
Silvæ pro muris sint, arcus et hasta, securis.
Per loca stricta greges munientur. Plana
per ignes
Sic inflammentur, ut ab hostibus evacuentur.
Insidiæ vigiles sint, noctu vociferantes.
Sic male turbati redient velut ense fugati
Hostes pro certo; Sic Rege docente Roberto."
I add the Scottish version from
Hearne :—
' On fat suld be all Scottis weire,
Be hyll and moss thaimself to weire,
Lat wood for wallis be; bow, and spier,
And battle-axe, their fechting gear.1
That ennymeis do thaim na dreire,
In strait placis gar keip all stoire,
And birnen the planen land thaim befoire,
Thanan sall they pass away in haist
Quhen that thai find nathing bot waist;
With Avylles and wakenen of the nycht
And mekil noyse maid on hycht;
Thanen shall thai turnen with gret affrai
As thai were chasit with swerd away.
This is the counsall and intent
Of gud King Robert's testament."
Letters CC, pages 161 and 239.
In the present volume, the reader
will find many references to the Ac­
counts of the Great Chamberlains of
Scotland. Two large quarto volumes
of these accounts, which contain all that
is yet printed, were politely communi­
cated to me by Mr Thomson, the pre-
1 In the translation of "securis," I have
adopted Ridpath's conjecture, Border History,
p. 290.
sent Clerk Register, to whose learning
and enthusiasm the legal antiquities
of the country are under deep obliga­
tions. Neither of these volumes has as
yet been published, as the Preface and
Appendix to be subjoined to each is not
yet printed; but when completed, the
work will be one of the most valuable
which has ever been presented to the
student of the history and antiquities of
his country. The accounts, indeed, are
written in Latin, and, from the innu­
merable contractions, present them­
selves in a shape somewhat repulsive to
the general reader ; but they contain a
mass of information upon the state of
ancient Scotland, its early agriculture,
commerce, manufactures, and upon the
manners and habits of the people, which
is in a high degree interesting and im­
portant. From the extreme minute­
ness of the details, and the perfect au­
thenticity of the records, there is a
freshness and a truth in the pictures
which they present, nowhere else to be
met with. As a corroboration of this
remark, let us take the following speci­
men from the Compotum Constabularii
de Cardross, vol. i. pp. 37, 38, 40, 41.
30th July 1329 :—
"Item computat in empcione 2 celd-
rarum frumenti 53 sh. 4 d. Et in emp-
cione 40 celdrarum farinæ 40 lib. boll
pro 15 d. Et in empcione 130 celd. et
8 boll, ordei, et brasei ordei, secundum
quod computans declarabit 166 lib. 11
solidi; videlicet 40 celdr. pro 40 lib.
celdr. pro 20 solidis et 40 celdr. pro 44
lib. celdr. pro 22 solidis et 40 celdr.
pro 46 lib. celdr. pro 23 solidis et 30
celdr. pro 36 lib. celdr. pro 24 solidis et
8 boll pro 11 solidis.....
" Item in empcione 77 martorum, 32
lib. In 7 martis emptis, 56 solidi. Et
in empcione 20 martorum pro pastu,
100 solidi. Et pro 5 multonibus emptis,
7 solidi et 6 denarii. . . . Et in 36
salmonibus salsis empt. 18 solidi. . . .
" Item pro uno reti empto pro piscibus
majoribus et minoribus capiundis, 40
solidi. Item pro maremio empto pro
scaffaldis faciendis pro opera novae ca-
meræ, 3 solidi.
" Item in 6 petros crete empt. pro pic-
tura nove Cameræ apud Cardross, 3
solidi. Et in 10 lib. stanni pro clavis
ad reparacionem ipsius Cameræ deal-
bandis et pro vitreo opere fenestrarum
ejusdem, 3 solidi et 4 denarii. Et pro
30 ponderibus bosci ad comburendum
pro negociis operis vitrei dictæ cameræ,
2 solidi et 6 denarii. Item pro 1 celdr.
---
368 HISTORY OF SCOTLAND.
calcis albe empta pro dealbacione dictæ
camerae, 8 solidi.....
" Item computat pro fabricatione 80
petrarum ferri pro navibus Domini Re­
gis et Comitis Moraviæ, ac pro aliis ne-
gociis manerii de Cardross, 26 solidi et
8 denarii, videlicet pro qualibus petra-
rum 4 denarii. Item, levantibus mala
Domini Regis per tres vices, 3 solidi.
Item, pro duccione magnæ navis Do­
mini Regis ab aqua in rivulum juxta
manerium, ac pro actiliis ipsius navis
cariatis, et portatis in maneriunl de
Cardross, 3 solidi. Item, pro 200 plaus-
tratis petarum. in æstate anni 1328, 4
lib. Item, in 200 plaustratis petarum, in
omnibus custibus factis circa cariagium
earundem usque ad Cardross in anno
1329, 4 lib.....Item pro custodia
61 martorum interfectorum ut patet in­
ferius per tres septimanas, 12 denarii.
Item pro interfectione eorundem, 5
solidi. Item in portagio carcosiorum
eorundem in lardarium, 12 denarii. .
. . . Item Idem computat pro con­
struccione unius porte juxta novam
Cameram spud Cardross, 6 denarii.
Item pro emendacione ct tectura domus
cujusdam pro falconibus ibidem cum
construccione cujusdam sepia circa ip-
sam domum, 2 solidi.
" Item in construccione cujusdam do-
mus ad opus Culquhanorum1 Domini
Regis ibidem, 10 solidi. Item computat
Johanni filio Gun pro negociis navium
Domini Regis, 6 lib. 13 solidi et 4 de­
narii. Item computat 12 hominibus de
Dumbar transeuntibus usque le Tar-
bart, pro magna nave Domini Regis re-
ducenda, 23 solidi. Item in expensis
hominum transeuncium cum Patricio
stulto veniente de Anglia usque le Tar-
bart, 18 denarii."
Even within the small limits of this
extract, it will be seen that much curi­
ous and interesting informa,tion is to be
found. The prices of grain, and the
quantities furnished for the consump­
tion of the royal household at Cardross,
(it will be recollected that Robert Bruce
spent there the two last years of his
life, 1328, 1329;) the prices of the pro­
visions for the larder, which consisted of
marts, sheep, salted salmon, and numer­
ous other articles not in this extract,
enable us to form a pretty correct idea
of the mode of living at this time. From
1 An obscure word which occurs nowhere
else—conjectured by a learned Mend to be
" keepers of the dogs," from the Gaelic root,
Gillen-au-con—abbreviated, Gillecon, Culqu-
houn.
the next passage, we are not only able
to glean some information as to the
state of the necessary and ornamental
arts, but Ave obtain, at the same time,
an interesting view of the occupations
of this great king during the last year
of his life. We see him and his illus­
trious nephew, Randolph, employing
their rural leisure in experiments in
shipbuilding and navigation, although
the circumstance that one of the king's
great ships could be hauled from the
firth to the running stream (rivulum)
beside the manor of Cardross, gives us
a very contemptible idea of the size of
these vessels. The house for the king's
hawks, and the expenses paid for the
journey of Patrick the Fool, from Eng­
land to Tarbet, are examples of the
entries in these records which throw
light on the manners of the times. Of
the obscure sentence regarding the house
which was constructed " ad opus cu;qu-
hanorum domini regis," I am unable to
give any explanation, in addition to the
conjecture in the note ; but innumerable
other passages might be selected, which
would prove the high interest and value
of these accounts.
The first volume contains 513 pages,
and its contents, as described in page 2,
are as follows :—
" 1. The Preface to the volume, with
an Appendix.
' ' 2. Extracts from a roll of accounts in
the reign of Alexander the Third, A.D.
MCCLXIII.—MCCLXVI., and from a roll of
accounts during the Interregnum, a.d.
MCCLXXXVIII.—mccxc. From the ori­
ginals, now lost, by Thomas, earl of
Haddington, clerk register in the reign
of James the Sixth.
" 3. The accounts of the Great Cham­
berlains of Scotland, and of the other
officers of the Crown, now remain­
ing in his Majesty's General Register
House, arranged in the order of time,
from the twentieth year of the reign
of Robert the First, a.d. mcccxxvi.,
to the death of David the Second, A.D.
MCCCLXX."
The second volume extends to 679
pages. Its contents are as follows :—
" 1. Preface to this volume.
" 2. The accounts of the Great Cham­
berlains of Scotland, and of the other
officers of the Crown, now remaining in
his Majesty's General Register House,
arranged in the order of time, from the
accession of Robert the Second, a.d.
mccclxx., to the death of Robert the
Third, A.D. MCCCCVI."
---
NOTES AND ILLUSTRATIONS. 369
The third volume contains the ac­
counts of the Great Chamberlains of
Scotland, and some other officers of the
kingdom, from 1406 to 1435.
Letters DD, p. 164.
Death of Randolph.
Barbour, the metrical historian of
Bruce, whose work is of the highest au­
thority, informs us that Randolph was
poisoned, without adding any particu­
lars.
The lave sa weill mantenyt he,
And held in pess swa the countre,
That it wes nevir or his day
Sa weill, as 1 herd auld men say.
Bot syne, allace! pusonyt toes he ;
To see his dede was gret pite."
—Barbour, p. 423.
Barbour is generally believed to have
been born about 1316, and, according to
Lord Hailes' conjecture, was fifteen
years old at the period of the death
of Randolph. On what grounds are
we entitled to set aside such an autho­
rity?
Winton is supposed, by his able editor,
M'Pherson, to have been born about
the year 1350, (Preface to Winton's
Chronicle, p. 19,) only eighteen years
after the death of Randolph. He com­
posed his Chronicle in his old age, hav­
ing commenced it in 1420, and finished
it in 1424. (Ibid. p. 22.) His account
is as follows :—
" Tharefore with slycht thai thoct to gere
Him wyth wenenous fell poysown
Be destroyid, and fel tresown
And that thai browcht swn til endyng
Be swn tresownabil wndertakyng ;
For at the Wemyss, by the se,
Poysownyd at a fest wes he."
—Vol. ii. p. 146.
This is clear and direct testimony
also. Let us next turn, not to Fordun,
for he omits all mention of the circum­
stance 1 of the poisoning, and simply
states the death of the Regent, but to
his continuator, Bower, who, as we
learn from himself, was born fifty-three
years after the death of Randolph,2 in
the year 1385. "Et ideo," says he,
speaking of the designs of the disin­
herited barons against Randolph, "no-
vam artem confixerunt, et ut Italici
ferunt, bello tradimento verius vili effe-
cerunt, ut quidam Anglicus religione
corruptus dicto custodi familiaris capel-
lanus, sibi venenum in vino propinaret.
1 Fordun a Hearne, p. 1018.
2 Lib. xiv. chap. 1.
VOL. I.
Quod et factum est ut supra." Lord
Hailes, in opposition to these authori­
ties, pronounces the story of the death
of Randolph by poison to be a silly
popular tale, and affirms that he was
afflicted in the decline of life with a
confirmed stone ; that in the progress
of the disease he became gradually
Avorse, was seized with colic pains, and
at length died. But this circumstance
of Randolph being afflicted with the
stone, as well as the minute detail of the
progress of the disease, on which Lord
Hailes' whole theory proceeds, is not
supported by an atom of authentic
evidence. It rests solely on the author-
ity of Hector Boece, whom Lord Hailes,
in almost every page, represents, and
truly represents, as a romancer, who is
unworthy of all credit. Barbour, Win-
ton, and Bower say not a word of it, but
describe Randolph as being in the active
discharge of his duties as governor,
when he was suddenly cut off by the
treachery of his enemies. Why, then,
should the historian adopt the story of
an author whom none can trust, and
whom, on other subjects, he never
trusts himself, in preference to the posi­
tive averment of authentic writers ? As
for poor Hector, he is treated rather
cavalierly, being first compelled to act
as an ally, and then summarily put
down as a fabricator. In speaking of
the Scottish historians, we must be care­
ful to separate Boece and his followers
from those who flourished before him.
The last class, including Barbour, Win-
ton, Fordun, and Bower, are valuable;
the first, full of invention and apocry­
phal details. For instance, Lord Hailes
observes, that the Scottish historians
pretend that Randolph was poisoned by
a vagrant monk from England, and that
this was executed with the knowledge
of Edward the Third. Now, neither
Barbour, nor Winton, as we see, say a
word of Randolph being poisoned by a
monk, far less an English monk; and
Fordun, although he lays the crime on
an English chaplain, does not allege
that Edward was privy to the plot.
Boece, however, and those who followed
him, assert both facts.
Letters EE, page 171.
Death of Seton.
Lord Hailes, in his Annals, has omitted
the circumstance of Edward the Third
having hanged the son of Sir Alexander
Seton,reservingitasahistorical problem,
2 a
---
370 HISTORY OF SCOTLAND.
to be treated of in a separate dissertation.
In that dissertation, given in the appen­
dix, the fact of Seton's death is estab­
lished beyond doubt, yet in future edi­
tions the scepticism of the text is retained.
The result of the dissertation is satisfac­
tory in one way, as it proves that Winton
and Fordun are corroborated in every
particular by the narrative of the Scala
Chronicle. Their account, also, of Seton
being governor of the town, is confirmed
by the testimony of the Chamberlains'
Accounts.
Letters FF, pages 172 and 323.
Battle of Halidon Hill.
Extract from a MS. Chronicle of Eng­
land, down to the time of Henry the
Fifth, by Douglas, a monk of Glaston-
bury. Harleian, 4690, fol. 79.
Ande the Scottes come in this araye
in iiii bateilles ageste the II. kingges of
Englond and Skottelond, as it is schewed
herafter plenely by the names of the
Lordes, as ye mough se in this nexte
writingge.
In the forewarde of Skottelonde,
weren thes Lordes whas names folow-
enne :—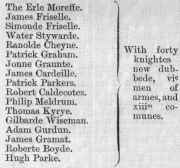 In the first parte of the halfe hende-
ward of the bateille, weren these Lordes
folwing :—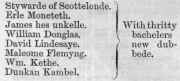 In the seconde parte of the halfe
hendewarde of the bateilles, wer thes
Lordes :—
James Stywarde of Colden.
Alan Stywarde.
William Abbrelim.
William Moris.
Robert Walham.
Jon fitz William.
Adam Mose.
Water fitz Gilberte.
Jon Cherton.
In the III. warde of the bateilles of
Skotelonde, weren these Lordes folow-
inge :—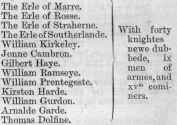 In the IIII. warde of the bateilles of
Skotelonde, were these Lordes whose
names folowe :—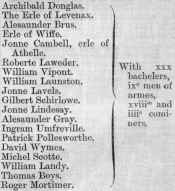 The Erle of Dunbar, keeper of the
castle of Berwicke, halpe the Scottes
with 50 men of armes. Sir Alisaunder
Seton, keeper of the towne of Berwicke,
halpe the Scottes with an hundred men
of armes ; and the comens of the town,
with iiii men of armes, xm and viiic fote
menne. The sum of Erles and Lordes
amounteth lxv. The sum of bachelers
new dubbede, a c. and xl. The sum of
---
NOTES AND ILLUSTRATIONS. 371
men of armes, iiim vic and i. The sum
of cominers iiii score m. and iic The
sum total of alle the pepelle amounteth
iiiixx m. xvm and vc and v.
And these forsaid fifty five grete
Lordes, with iiii bateilles, as it is before
descrivede, come alle a fote. And Kinge
Edwarde of Englonde, and Kinge Ed-
warde of Skottelonde, had well pair-
ailed ther folke in iiii bateilles on fote,
also to fighte agenste ther enemys. And
then the Englische mynstrelles beten
ther tabers, and blowen ther trompes,
and pipers pipeden loude, and made a
grete schoute uppon the Skottes, and
then hadde the Englishe bachelers, eche
of them ii winges of archers, whiche at
that meeting mightly drewen ther
bowes, and made arowes flee as thick as
motes on the sonne beme, and so thei
smote thei Skottes, that they fell to
grounde by many thousands. And anone,
the Skottes began to flee fro the Englishe
menne to save ther pere lyves ; butt
whan the knaves and the Skottishe
pages, that weren behinde the Skottes
to kepe ther horses, seyen the discom­
fiture, thei prikened ther maisters
horses awey to kepe themselfe from
perille, and so thei towke no hede of
ther maistars. And then the Englishe
men towken many of the Skottes
horses, and prikeden after the Skottes,
and slewe them downe righte. And
ther men might see the nowbell Kinge
Edwarde of Englonde and his folke,
hough mannefully they chaseden the
Skottes; whereof this Romance was
made.
There men mighte well se
Many a Skotte lightly flee ;
And the Englische after priking
With sharp swerdes them stiking.
And then ther baners weren founde
Alle displayde on the grounde,
And layne starkly on blode
As thei hadde fought on the flode.
But the Skottes ill mote thei
Thought the Englisch adrenit schulde be,
For bicause thei might not flee.
But if thei adrenite schulde be,
But thei kepte them manly on londe,
So that the Skottes might not stonde,
And felde them downe to grounde
Many thousand es in that stounde,
And the Englishe men pursuyed them so
Tille the fiode was alle a­goo.
And thus the Skottes discomfite were,
In litell tyme with grite feere,
For no notherwise did thei stryve
But as xx schepe, among wolfes fyve,
For v of them then were
Agenste ane Englischeman there;
So there itte was welle semyng
Thatte with multitude is no scomfiting.
Butt with God fulle of mighte
Wham He will helpe in trewe fighte.
So was this bi Goddes grace
Discomfiture of Skottes in that place
That men cleped Halidoun hille.
For ther this bateill befelle
Atte Berwicke beside the towne.
This was do with mery soune
With pipes, trompes, and nakers thereto,
And loude clarionnes thei blew also ;
And there the Skottes leyen dede
xxx m. beyonde Tweed,
And v. m. tolde thereto
With vii c. xii and mo ;
And of Englischemen but sevenne,
Worschipped be God in hevenne !
And that were men on fote goyng
By fely of ther oune doyng.
On Seinte Margete­ys eve, as I yow telle,
Befille the victory of Halidoune hille.
In the yere of Gode almighte
A m. iii. c. and ii and thritty.
Atte this discomfiture
The Englische knightes towke ther hure
Of the Skottes that weren dede,
Clothes and habergiounes for ther mede ,
And watteever thei might finde,
On the Skottes thei lefte not behinde
And the knaves by ther purchas
Hadde ther a mery solas,
For thei hadde for ther degree
In alle ther lyffe the better to be.
Alle thus the bateille towke ending,
But I cannot telle of the ymgoing
Of the two kinges, where thei become,
And whether thei wenten oute, or home.
But Godde that is heven King
Sende us pes and gode ending !
Letters GG, page 192.
Battle of Durham.
Lord Hailes, (Annals, vol. ii. p. 218,)
in his observations on the conduct of
the Steward of Scotland at the battle
of Durham, has this passage :—" Boece,
book xv. fol. 324, has been pleased to
assert that the Steward and the Earl of
March, perceiving that the forces under
their command were dispirited, and un­
willing to fight any longer, withdrew
them to a place of safety." He adds,
"that this retreat was the cause of all
the disasters which ensued." He then
observes, that the proper vindication of
the Steward is, that the narrative of
Boece, although not altogether of his
own invention, has no warrant from
Fordun, or from any English historian
of considerable antiquity. I have no
desire to support the character of Boece,
the most apocryphal of all our histo­
rians; but as I have differed entirely,
in this part of the history, from the
view given of this battle by Lord Hailes,
it is necessary to observe, that this has
been done on authentic grounds; and,
---
372 HISTORY OF SCOTLAND.
first, it is to be observed, that Fordun's
account of the battle of Durham, in­
stead of giving no support to Boece,
describes the flight of the Steward and
the Earl of March in strong expressions.
" Omnibus captis," says he, exceptis
Patricio de Dunbar et Roberto Sever
Scotis, qui fugam capientes illœsi abi­
rant"—Fordun a Hearne, p. 1038. The
Scala Chronicle, a contemporary English
authority, from which Leland gave ex­
tracts in his Collectanea, and which has
since been printed, also corroborates the
account of Fordun. "The Counte of
March and the Seneschal of Scotland
fled." To say that the Steward fled
from the field without striking a blow,
would be highly inaccurate, for we
know from Winton that he sustained
great loss; but that, seeing the day
on every side going against them, he
and the Earl of March effected their
retreat without attempting to rescue
the king, seems to be the fact; and it
is quite evident that David never for­
gave it.
Letters HH, page 218.
The Record of the proceedings of
the Parliament held at Perth on the
13th of January 1364 is valuable, and
has never yet been published; I there­
fore subjoin it, from the cancelled
volume "Robertson's Parliamentary Re­
cords."
Apud Perth in Domo fratrum predica-
torum dietercio decimo mensis Janu-
arii anni domini millesimi trecen-
tesimi sexagesimi quarti.
Constitutis et comparentibus coram
domino nostro rege tanquam in suo con-
silio generali venerabilibus in Christo
patribus dominis Sancti Andree Don-
keldensis, Brechynensis, Rossensis, et
Candide case ecclesiarum, episcopis De
Dunfermelyn de Aberbroth de Passeleto
de Scona de Kylwynnyne et de Cupro
abbatibus Et dominis Roberto senescallo
Scocie Comite de Stratherne, Willielmo
Comite de Rosse, Johanne Senescallo
domino de Kyle, Willielmo de Keth
marescallo Scocie, Roberto de Erskyn,
Archembaldo de Douglas, Hugone de
Esglyntoun, Waltero et Alexandro de
Haliburtoun, Dauid de Grame, Alexan-
dro Senescallo, Willielmo de Dyssyn-
toun, Rogero de Mortemer, Dauid Flem­
ing, Dauid de Anandia, et Roberto de
Ramesay multibus, Alano de Erskyn,
Malcolmo Fleming, Willielmo de Nev-
byggyng, et Willielmo de Melgdrom,
Johanne Wygmer, Adam Tor, Johanne
Crab, Adam Pyngle, Johanne Mercer,
Johanne Gil, Willielmo de Harden, et
Eliseo Falconier, Conuocatisque aliis ad
huiusmodi consilium vocari consuetis et
ad negocia infrascripta citatis et recita-
tis articulis siue punctis reportatis a
tractatu nuper habito cum rege et con-
silio Anglie per nuncios vltimo illuc
missos videlicet Dominum Willielmum
episcopum Sancte Andree Dominum
Robertum de Erskyn militem Magis-
tros Walterum de Wardlau et Gilleber-
tum Armistrang prout continetur in-
ferius fuit per modum qui sequitur
concordatum videlicet Quod eorum om­
nium plena fuit intencio et assensus
quod tractatus super bona pace refor-
manda et habenda perpetuo cum rege et
regno Anglie acceptetur per vias modos
et condiciones subscriptas, et quod si
tractatus huiusmodi super pace forte
deficiat, fiat tractatus super treugis
habendis per redempcionem regis solu-
endam, si possit haberi vt inferius est
contentum ad quod nuncium faciendum
eosdem prenominatos nuncios concordi-
ter elegerunt.
Primo quidem quo ad primum articu-
lum seu punctum reportatum vt per-
mittitur quod scilicet dominis exhere-
datis existentibus in Anglia de regno
Scocie restituantur terre sue ita ordin-
atum est ad tractandum quod quinque
persone alias nominate in diuersis trac-
tatibus videlicet Comes Atholie, domini
de Percy, de Beaumont, de Talbot, et
de Ferrers, pro bono pacis rehabeant
terras suas Eciam pro bona pace habenda
quod aliis diuersis videlicet Dominis
Godfrido de Roos Patricio Macowlach
Edwardo de Lechmere et Willielmo de
Westheryngton sint sue hereditates
restitute et quod dominus Alexander de
Mowbray habeat ad summam centum
marcatarum terre Etiam quod illi de
regno Scocie qui fuerunt ad pacem regis
Anglie videlicet existentes in Marchiis
gaudeant terris suis Eciam quod ad
terras quas vendicant heredes quondam
domini de Walris infra regnum Scocie
videtur prenotatis dominis super ipsis
esse tractandum et quod si de aliis
punctis concordari poterit ad bonam
pacem non esse sic standum per hoc vt
aliis concurrentibus impediatur trac-
tatus.
Secundo quo ad terras concedendum
filio juniori regis Anglie concordatum
fuit sic esse tractandum quod mille
librate terre infra Galwydiam que fuit
---
NOTES AND ILLUSTRATIONS. 373
hereditas quondam Edwardi de Balliolo
concedantur eidem hereditarie eciam
et similiter de Insula de Man que est
valoris mille marcatarum cum tenendiis
et pertinenciis earundem quod si ad hoc
concordari non possit quin Comes de
Salisberi habeat dictam insulam per
ipsum tractatum concedatur et tractetur
quod dicto filio regis Anglie loco illarum
mille marcatarum de Man mille marce
stirlingorum per annum de certis red-
ditibus hereditarie sint concesse quo-
usque terre ad eundem valorem sibi
valeant assignari ita tamen quod viterque
pro eisdem terris sit homo legius domini
nostri regis Scocie.
Tertio quod pro bona pace habenda et
omnimodis accionibus etreprobacionibus
finaliter sedandis ad hoc tractetur secun-
dum quod nuncii domini nostri regis
viderint melius expediri vt dominus
noster rex faciat guerram fieri ad tempus
infra aliquas partes Hybernie ad quas
sui commodius accedere poterunt per
potenciam vias et modos rationabiles et
possibiles consideratis marchiis regni
Scocie et Hybernie quibus sibi et suo
consilio visum fuerit faciendum.
Preterea de tractatu habendo super
pace reformanda si forte premissa omnia
non sint accepta per partem aduersam,
nec vellet per hoc assentiri ad pacem,
volunt predicti domini et vnanimi con­
sensu concordarunt antequam bona. pax
et perpetua relinquatur, omnino. quod
concedatur solucio redempcionis debite
tollerabiliter facienda, nec non mutua
confederacio regnorum perpetuo, quam-
uis non per equalem potenciam, que
tamen nullo modo sapiat seruitutem,
vna cum omnibus supradictis si eorum
aliqua nullo modo recindi valiant modi-
ficari uel minui per fidelem industriam
tractatorum verum concessio terre vallis
Anandie que petita est alias relinquitur
regie voluntati.
Ceterum concordauerunt predicti do-
mini congregati si forte defecerit trac-
tatus pacis per vias pretactas tractan-
dum esse super treugis et solucione
redempcionis reformanda sic scilicet
primo quod pro remissione et sedacione
omnium penarum et reprobacionum
remittantur penitus vinginti mille
marche iam solute et deinde quod solu-
antur per annum quinque mille marche
quousque sexies vinginte mille marche
sint solute treugis durantibus pro tem-
pore solucionis predicte viz. ad vinginti
quatuor annos que si non valeant ac-
ceptari tractetur postea quod centum
mille libre soluantur pro omnibus sup-
radictis remittendo etiam vt supra
viginti mille marchas solutas et incipi-
endo de nouo vt omni anno soluantur
quinque mille marche prorogatis treugis
pro toto tempore solucionis vt supra
quibus omnibus forte deficientibus affir-
metur finaliter quod dictis viginti mille
marchis solutis omnino remissis soluan-
tur centum mille marche infra decem
annos quolibet anno videlicet decem
mille marche prout in primo tractatu
super deliberacione regis extitit concor-
datum.
Item ordinatum fait per dictum con-
silium quod pecunia pro redempcionc
soluenda sic leuetur vt scilicet tocius lane
regni custuma ad summam octo mille
marcharum per annum ad minus ascen-
dere estimetur, que vero custuma si
tanta fuerit vel vberior per certos bur-
genses committendos per regem et eciam
per literas sub communi sigillo burgo-
rum de quibus fuerint et sub periculo
communitatum eorumdem recipiatur in
Flandria in moneta regis Anglie ita
tamen quod sit aliquis sufficiens ex
parte regis ibidem qui astet continue
et examinet ad domum ponderandi et
sic fiat ibi solucio de octo mille mar-
chis per annum vt in dicto primo trac-
tatu est contentum ita quod intelliga-
tur dicta solucio fieri si processum
fuerit ad vltimam viam soluendi aliis
recusatis.
Item ordinatum fuit quod fiat eciam
contribucio omni anno, durante dicto
decennio, sex denariorum de libra per
totum, que leuetur per certos collectores
annuatim eligendos, nulle persone par-
cendo, de qua per camerarium et aliam
sibi per regem adiungendam personam
sumantur. primo ante omnia alia, due
mille marche per annum ad solucionem
dictarum decem mille marcharum re-
demcionis complendum, residuum ipsius
contribucionis permaneat cum camerario
pro necessariis sumptibus domini nostri
regis. manuceperunt eciam et efficaciter
promiserunt prenominati domini omnes
et singuli quod tractatum pacis siue
treuge que dicti nuncii inient siue per-
ficient cum rege Anglie et suo consilio
per modos et vias prenotatas approba-
bunt ratificabunt confirmabunt et sub
pena reprobacionis et periurii perficient
in omnibus et inuiolabiliter obseruabunt
et eciam quod ordinacionem factam pro
contribucione leuanda et solucione re-
dempcionis facienda tenebunt fideliter
et implebunt nec ipsam in se vel in suis
hominibus impedient aut ei in aliquo
contradicent.
---
374 HISTORY OF SCOTLAND.
Similiter quod non impetrabunt nec
exigent clam vel palam pro se vel pro
aliis a domino nostro rege aliquas terras
wardas releuia vel maritagia finis vel
escaetas medio tempore contingentes
sed remanebunt integre in manibus cam-
erarii ad vtilitatem regis vna cum resi-
duo dicti contribucionis vt est dictum
in casu quo per dictam vltimam viam
concordetur super treugis et summa re-
dempcionis somenda et quia si premissa
non seruarentur sed procederetur forsi-
tan in oppositum eorumdem manifeste
sequeretur annullacio contractus initi
in obprobrium et graue dispendium
regis prelatorum et procerum nec­
non destruccionem tocius communitatis
regni.
Promiserunt omnes et singuli dicti
domini congregati fideliter et tactis sa-
crosanctis euuangeliis personaliter iurau-
erunt quod contra quemcunque pre-
missa vel premissorum aliquod infrin-
gentem impedientem seu contradicen-
tem in aliquo cum sua tota potentia
insurgent concorditer tanquam contra
rebellem regis et rei publice subuer-
sorem ac ipsum infractorem impedito-
rem seu contradictorem ad obsema-
cionem predictorum compellent sub
pena reprobacionis et periurii vt pre-
mittitur et sub pena pariter fidelitatis
sue infracte contra regiam maiestatem
In cuius rei testimonium sigilla prenom-
inatorum prelatorum et sigilla dicti
domini Senescalli Scocie Comitis de
Stratharne et domini Patricii Comitis
Marchie et Morauie et domini Willielmi
Comitis de Douglas qui ad premissa
omnia et singula suum consilmm adhi-
buerunt et consensum in presencia
domini nostri regis apud Edenburgh
corporali prestito iuramento licet per-
sonaliter non interfuerit cum ordinaren-
tur primitus apud Perth vna cum sigillis
domini predicti Comitis de Ross et
aliorum procerum predictorum nec non
communibus sigillis burgorum de Edin­
burgh Abriden Perth et Dunde presen-
tibus sunt appensa Acta et data anno
die et loco predictis.
Letters II, page 221.
ORDINATIO CONSILII.
Octauo die Maii anni millesimi trecen-
tesimi sexagesimi sexti apud mo-
nasterium Sancti Crucis.
Fuit per consilium ordinatum In pri-
mis quod cum super quatuor punctis
videlicet homagio. successione, regni
demembracione, ac subsidio gencium
armorum perpetuo, per regnum Scocie
regno Anglie et eciam infra propria duo
regna et vltra per regnum Scocie extra
regnum Anglie impendendo, fuisset ali-
quandiu tractatum, finaliter refutatis
primis tribus punctis tanquam intol-
lerabilibus et non admissibilibus de-
liberatum extitit fore super quarto
puncto tractandum per nuncios a par-
lamento mittendos cum modificacione
possibili habenda super eodem quarto
puncto et in casu quo per quartum
punctum tolerabiliter modificatum fin-
alis pax haberi non valeat vt petitur
deliberatum, extitit quod iterum taxen-
tur secundum verum valorem et anti-
quum per totum regnum terre et red-
ditus tarn ecclesiastici quam alii, et ipse
taxaciones ad parlamentum presenten-
tur, et eciam quod scribatur vicecomit-
ibus quod ad certos dies sibi nominandos
in scripto citari faciant coram ipsis
diuites patrie et plebanos qui ad parla-
mentum non erunt, nec voluerunt per-
mittere interesse ibidem, ad quos dies
eciam erunt certe persone deputandc
per regem vel camerarium, et queratur
a quolibet singillatim et ponatur in
scripto quantum quisquis dare voluerit
gratis ad redempcionem regis infra tres
annos proximo futuros complete soluen-
dam, et ipse donaciones ibidem pariter
presententur, ad finem quo dicto tracta-
tu pacis deficiente, habeatur saltem in
fine quatuor annorum quibus treuge
sunt iam firmate totum residuum re-
dempcionis Domini nostri regis in
promptu soluendum vt vitari valeant
omnes reprobaciones et pene si que per
partem aduersam possent inpingi vel
peti per instrumenta super magnis treu-
gis et liberacione regis confecta.
DE MONETA FABRICANDA.
Item quod fabricetur moneta de ma-
teria iam allata in regnum talis qualem
fecit magister Jacobus in pondere et
metallo ita quod in hiis equipolleat
monete currenti in Anglia et fiat in ipsa
signum notabile per quod possit ab omni
alia prius fabricata euidenter cognosci
quousque in proximo parlamento possit
super hoc maturius auisari Et interim
super mercede monetarii et operariorum
conueniat camerarius pro parte regis
cum ipsis prout melius poterit con-
uenire.1
1 Robertson's Parl. Records, pp. 104-105.
---
NOTES AND ILLUSTRATIONS. 375
LETTERS KK, page 223.
Parlamentum tentum apud Sconam vi­
ces imo die Julii anno gracie millesimo
trecentesimo sexagessimo sexto et
regni Domini nostri regis Dauid
tricesimo septimo summonitis et vo-
catis more debito et solito episcopis
abbatibus prioribus comitibus baron-
ibus libere tenentibus qui de Domino
nostro rege tenent in capite et de
quolibet burgo certis burgensibus qui
ad hoc fuerunt ex causa summoniti
comparentibus omnibus illis qui
debuerunt potuerunt vel voluerunt
commode interesse absentibus vero
quibusdam aliis quorum aliqui
legitime excusati fuerunt aliqui vero
quasi per contumaciam absentarunt
videlicet Willielmus Gomes de Rosse
Hugo de Ross Johannes de Insulis
Johannes de Lorn et Johannes de
Haye.
Cum ipsum parlamentum principaliter
inter cetera fuerit statutum ad delibe-
ranclum de consensu et assensu illorum
quorum supra super tractatu pacis
habendo cum rege et regno Anglie in
forma et super punctis vltimo reportatis
per nuncios et super plenaria solucione
redempcionis domini nostri regis facienda
in fine treugarum iam per triennium
duratarum in casu quo pax interim
reformari aut vlteriores treuge haberi
non poterunt et super necessariis expen-
sis regis et suorum nunciorum tunc
mittendorum in Angliam Primo et prin-
cipaliter super negociis pacis fuerat
ordinatum quod nuncii adhuc mitter-
entur in Angliam qui fuerunt nuper
illic videlicet dominus episcopus Sancti
Andree Dominus Robertus de Erskyn
Magister Walterus de Wardlau et Gille-
bertus Armistrang sicut aliam planam
commissionem habentes ad tractandum
de pace vt bona et perpetua possit fir-
mari inter regna concedendo omnia que
in primo instrumento facto sub sigillis
dominorum fuerunt pro pace concessa
et vltra tractando super quarto puncto
videlicet subuencione guerratorum mu-
tuo facienda quanto melius et ad minus
grauamen fieri poterit sicut in vltimo
instrumento sub sigillis vt supra inde
facto super eodem puncto onerati fue-
runt.
Et vlterius hoc tractatu deficiente ad
tractandum super prorogacione treu-
garum ad viginti quinque annorum exi-
tum soluendo summam redempcionis
que restat soluenda videlicet quolibet
anno quatuor millia librarum vt habe-
batur alias in tractatu. Quantum vero
ad secundum punctum sic ordinatum
fuit, quod cum iam habeatur in certo
per presentaciones hic factas tam anti­
que extenti quam veri valoris omnium
reddituum ecclesiarum et terrarum tam
ecclesiasticarum quam mundanarum
taxentur eciam omnia bona burgensium
et husbandorum preter oues albas ad
presens, et infra festum natiuitatis beate
virginis proximo futurum apud Edin­
burgh consilio presententur et tunc
habita totali summa veri valoris omnium
bonorum tocius regni ordinabatur con-
tribucio leuenda generaliter et adequa-
bitur libra libre vt leuentur extunc
incontinenti octo mille marce ad expen -
sas regis et ad eius debita soluenda in
regno, et ad expensas nunciorum et non
plus, cum magna custuma ordinetur ad
dictam solucionem quatuor mille lib-
rarum pro redempcione vt premittitur
facienda quousque nuncii reuertantur
et ex hoc posset ordinacio quo ad tercium
punctum videlicet. Quod cum dominus
noster rex ordinauerit pro certiori mag-
nam custumam suam ad solucionem
dictarum quatuor mille librarum pro
sua redempcione facienda, per annum,
dicte quatuor mille libre leuentur de
dicte contribucione leuenda et duo
millia marcharum eciam de eadem con-
tribucione mille marche videlicet ad
soluenda debita regis et ad expensas
suas interim faciendas et mille marce ad
expensas nunciorum que quidem duo
millia marce sic mutuata fuerunt vt
haberentur in promtu videlicet per
barones mille marche per clerum sex-
cente marche et per burgenses quad-
ringinte marce que sibi refundentur
cum dicta contribucio fuerit leuata.
Plegiis ad solucionem faciendam bur-
gensibus Domino Roberto de Erskyn et
Domino Walterro de Bygar camerario
Scocie.
Et fuit in dicto parlamento ad instan-
ciam trium communitatum per regem
expresse concessum et eciam publice
proclamatum primo quod vnicuique fiat
communis iusticia sine fauore cuiquam
faciendo et absque accepcione cuiuscun-
que persone et quod litere que emana-
uerint de capella regis aut aliter per
alios ministros quibus incumbit facere
iusticiam pro iusticia facienda non reuo-
centur per quascunque alias literas sub
quocunque sigillo sed quod liceat min-
istris quibus tales litere destineantur
ipsis non obstantibus iusticiam facere
ac ipsas remittere indorsatas.
---
376 HISTORY OF SCOTLAND.
Item quod cum communitates se iam
onerauerint ad tam onerosam solucionem
faciendam tam pro redempcione domini
nostri regis facienda, quam pro ipsius et
nunciorum suorum necessariis et expen-
sis, nichil de hiis que ad hoc ordinantur
applicetur ad vsus alios quoscunque ex
dono remissione vel aliter sed solum ad
ea ad que sunt vt premittitur singulariter
ordinata.
Item quod viri ecclesiastici et terre
sue elemosinate gaudeant suis libertati-
bus et priuilegiis et quod nulla alia onera
vel imposiciones sint eis imposite vltra
onera in parlamento concessa et si qui
sint impeditores assedacionis decimarum
quod arceantur per regem ad querelam
ipsorum qui in hoc grauati fuerint sic
quod suis decimis possint pacifice et cum
integritate gaudere sub pena excom-
municacionis quo ad clerum et decem
librarum penes regem.
Item quod nichil capiatur a communi-
tatibus ad vsus regis sine prompta solu-
cione nec eciam aliqua capiantur ad
pricam nisi vbi et secundum quod fieri
consueuit et debet fiat infra tempus
consuetum et debitum solucio prompta
et debita pro eisdem.
Item quod isti rebelles videlicet de
Atholia Ergadia Baydenach Lochaber et
Rossia et alii si qui sint in partibus bo-
realibus aut alibi arestentur per regem
et ipsius potenciam ad subeundam com-
munem iusticiam et ad contribucionem
specialiter exsoluendam et aliter cori-
gantur prout ad pacem vt vtilitatem
communitatis et regni magis fuerit opor-
tunum.
Item quod omnes officiarii regis
videlicet vicecomites et alii inferiores
ministri tam infra burgum quam extra
obediant camerario et aliis superioribus
ministris sub pena amocionis eorumdem
ab ipsorum officiis sine spe restitucionis
imposterum ad eadem.
Item quod non mittantur aliqui cum
equis ad perhendinandum cum reli-
giosis rectoribus vicariis aut husban-
dis nec aliqui cum quibuscunque equis
mittantur in patriam qui consumant
bona blada vel prata husbandorum
vel aliorum aut aliquis hoc facere pre-
sumat sub pena que pro huiusmodi
debet infligi pro quantitate delicti et
qualitate persone.
Item quod remissiones regis concesse
vel concedende pro quibuscumque trans-
gressionibus sint casse et nulle nisi satis-
fiat parti infra annum a data earundem
nisi forte manifeste steterit per illos
quorum interest et dc hoc illi quibus
concesse fuerint remissiones huiusmodi
fecerint sufficientur doceri.
Item quod eamerarius faciat in singulis
burgis iuxta locorum facilitates de hos-
pitiis competentibus prouideri.
Item quod nullus prelatus comes vel
baro vel alius cuiuscunque condicionis
existat ecclesiasticus vel secularis equi-
tet cum maiori familia in personis vel
equis quam deceat statum suum ad
destruccionem patrie quodque nullus
ducat secum lanceatos vel architenentes
equitando per patriam nisi causa ration-
abilis subsistat de qua ministris regis
super hoc questionem facientibus fidem
facere teneantur sub pena incarceracionis
corporum eorundem.
Item quod quilibet iter faciens siue
moram per regnum solucionem faciat
suis hospitibus et aliis de quibuscunque
receptis et expensis suis vtrobique ra-
tionabiliter et secundum forum patric
sic quod exinde nulla iusta querimonia
audiatur sub pena.
Item quod dominus noster rex faciat
omnia et singula prenotata sub sigillo
suo in scripto redigi et per singulos
vicecomites puplice proclamari. *
Letters LL, page 224.
Acta in parlamento tento apud Sconam
viccsimo septimo die mensis Septem-
bris cum continuacione dierum anno
grade millcsimo trecentesimo sexa-
gesimo septimo conuocatis tribus
communitatibus regni eongregatis
ibidem Quedam certe persone electe
fuerunt per easdem ad parlamentum,
tenendum data aliis causa autumpni
licencia ad propria redeundi vide­
licet.
Ex parte cleri electi fuerunt domini
episcopi Sancti Andree Glasguensis Mo­
rauiensis Brechinensis Cancellarius et
Dumblanensis Prior Sancti Andree, Ab-
bates de Dunfermelyn, de Aberbroth,
et de Lundors, de clero eciam Santi
Andree, prepositus Sancti Andree, et
Magister Alexander de Caroun de clero
Glasguensis, Dominus Johannes de Car­
ric Procurator Episcopi de Dunkelden
cantor eiusdem, Procurator Episcopi
Abirdonensis Magister Dauid de Marre,
et Procurator Episcopi Rossensis, De-
canus eiusdem.
Pro parte vero baronum Domini
Senescallus Scocie Comes de Strath-
erne, Comes de Marr, Domini de Kyle
et de Meneteth, Domini Willielmus de
Keth marescallus. Scocie, Robertus dc
* Robertson's Par Records, pp. 105, 106
---
NOTES AND ILLUSTRATIONS. 377
Erskyn, Archibaldus de Douglas, Wal-
terus de Lesley, Walterus de Halibur-
toun, Hugo de Esglyntoun, Dauid de
Grame, Duncanus Wallays, Dauid Wal-
teri &c. absentibus contumaciter Comi-
tibus de Marchia, de Ross, et de
Douglas.
Et pro parte burgensium electi de
Edynburgth Adam de Brounhill, et
Andreas Bec, de Aberden, Willielmus
de Leth, et Johannes Crab, de Perth,
Johannes Gill et Johannes de Petscoty,
de Dunde, Willelmua de Harden, et
Willielmus de Innerpeffre, de Monross,
Elisieus Falconar et Thomas Black, de
Hadyngstoun Johannes de Heetoun et
Magister Willielmus de Tauernent, et
de Lychcu Thomas Lethe.
Cum super tribus punctis determin-
andis fuerit presens parlamentum or-
dinatum principaliter teneri. Primo
videlicet quo ad modum viuendi regis,
super quo dicti domini congregati deli-
berant per hunc modum videlicet quod
vt dominus rex viuere possit, et debeat
sine oppressione populi, omnes redditus
firme, cane, custume, foreste, et officia
ac alia emolumenta quecunque ac omnes
terre tam dominice quam alie, in quorum
possessione vt de feodo immediate re-
colende memorie dominus rex Robertus
pater domini nostri regis qui nunc est,
fuit tempore mortis sue, et quarum pos-
sessio siue proprietas ad jus et proprie-
tatem corone tempore regis Roberti, aut
tempore regis Alexandri, pertinere con-
sueuit et debuit, cum reuersionibus
debitis, ratione corone, et que reuer-
siones medio tempore contigerunt, eciam
si dicti terre redditus et firme cane cus-
tume foreste et alia emolumenta que
supra sint per dictum quondam domi-
num regem Robertum aut per dominum
nostrum regem qui nunc est, aliquibus
personis vel locis donata vel concessa ad
certum tempus iam transactum vel sub
certa limitacione condicione seu tallia-
cione finita et extincta, et similiter terre
per ipsum dominum nostrum regum vel
suum camerarium assedate ad tempus,
licet terminus seu exitus nondum vene-
rit, plene et integre ab illis qui eas et
ea hactenus habuerunt et ab omnibus
aliis imposterum ad dictum nostrum
regem et suam coronam reuocentur et
redeant, cum ecclesiarum aduocacioni-
bus, et debitis antiquis seruiciis per-
petuo remansure, nec vnquam conce-
dantur illis aut aliis nisi solum ex
deliberacione et consensu trium com-
munitatum. Et si illi quibus terre
huiusmodi fuerunt concesse, habeant
iam ipsorum aliquas in sua propria
cultura, redactas, non assedatas ad
firmam, compellantur ad soluendum
tantam firmam ad terminum Sancti
Michaelis proximo futurum pro ipsis
terris pro quanta ille terre vel alique,
alie eque bone, posent in presenti ra-
tionabiliter et fideliter assedari, et quod
omnes warde releuia maritagia et esca-
eta ac exitus curiarum regis quarum-
cunque remaneant ad sustentacionem
domus sue in manibus camerarii pro
vtilitate domini nostri regis disponenda,
et cum dominus noster rex aliquem pro
merito promouere vel remunerari vol-
uerit, hoc fiat tantum de mobilibus et
cum bona deliberacione consilii si quis
autem remuneracionem seu promo-
cionem a domino rege impetrauerit et
ipsum male informauerit de valore uel
summa cum fuerit compertum quod
ipse valor vel summa maior fuerit per
quantitatem excessiuam ita quod impe-
tracio ilia surreptitia possit notari ipsam
promotionem seu remissionem omnino
amittet et reprobacionem incurret
merito debitam in hoc casu; aut si
aliquis impetrauerit a domino rege de
dictis demaniis, seu terris reuersionibus
et reuocationibus aliquam partem nota-
bilem tanquam a rege et suo consilio,
reprobandus penam subibit debitam et
carebit nichilominus impetracione.
Item deliberant pro vtilitate com-
muni quod omnes regalitates libertates,
infeodaciones, infeodacionum innoua-
ciones, per quas warde, releuia, mari-
tagia, secte curiarum aut alia quecumque
seruicia communia domini nostri regis
diminuta sunt in aliquo vel subtracta
post mortem domini dicti regis Roberti,
quibuscunque partibus; de nouo con-
cessa reuocentur et cessent, omnino, et
seruicia subeant comnmnia cum vicinis
prout facere consueuerunt ante conces-
sam huiusmodi libertatem antiquis re-
galitatibus libertatibus et immunitatibus
in suo robore permansuris, et quod
omnes carte et munimenta super reuo-
cacionibus et reuersionibus vel aliqua
eorum confecte vel confecta hactenus,
reddantur et restituantur apud Perth
in scaccario, ibidem tenendo, in manus
cancellarii et camerarii, infra quindecim
dies festum epiphanie domimi proximo
futurum immediate sequentes, et nichi-
lominus si alique carte vel munimenta
huiusmodi penes personas aliquas abinde
remanserint non reddite vel non reddita
ex tunc casse irrite et nulle cassa irrita
et nulla habeantur et perpetuo nullius
sint momenti.
---
378 HISTORY OF SCOTLAND.
Secundum punctum videlicet quan­
tum ad municionem castrorum requira-
tur in paruo registro. Quantum vero
ad tertiu.ni punctum videlicet disposi-
cionem et statum regni deliberant quod
si aliqua motiua de nouo occurrant pro
parte regis Anglie vel pro parte nostra
vltra alios tractatus per nuncios regni
et per communitates negataque inducere
poterunt bonam rationabilem et tollera-
bilem pacem vel treugarum proroga-
cionem vtilem habeant dominus noster
rex et illi quos ipse ad tunc propinquius
habere poterit de suis consiliariis juratis
vicem et protestatemliberam prelatorum
ct proccrum in hoc parlamento congre-
gatorum eligendi nuncios et taxandi
corum expensas secundum laborem et
negociorum exigenciam et personarum
eligendarum qualitatem et statum ab-
sque conuocacione super hoc parlamenti
seu alterius consilii cuiuscunque, et
quod propter promptitudinem et cer-
titudinem solucionis redempcionis ha-
bencle tota magna custuma leuatur ad
ipsam solucionem faciendam videlicet
viginti solidi de sacco. Et ordinatur
quod ad nullum aliud applicetur, et vt
patet ex deliberacione et ordinacione
premissorum, cum ipsis demaniis alia
propria domini regis redire debent ad
manus suas, et reuerti. Inter que
comprehenditur dimidia marca que
solet solui de sacco lane, et sic pro-
portionaliter de aliis mercandisis con-
similibus ad custumas. Habeant eciam
dominus rex et illi quos ipse ad tunc
propinquius habere poterit vicem et
potestatem, vt supra ad ordinandum
quasi per communem contribucionem
leuari quantum recompensare valeat
cum domino nostro rege ad sustenta-
cionem domus sue, pro ilia dimidia
marca de custuma recepta ad solucio-
nem reclempcionis antedicte, quando
scilicet saccum ad plenum videlicet in
exitu scaccarii in proximo tenendi de
custuma integra mercatorum ad quan­
tum videlicet ascendent vsque ad nonam
lanam. Et sic si quid ad dictam recom-
pensacionem faciendam leuatum aut
contributum fuerit non erit tanquam
ad expensas domus regis sed ad sup-
plecionem redempcionis eius tantum vt
patet ex precedentibus ad quam solu-
cionem redempcionis tota communitas
obligatur.1
1 Robertson's Parliamentary Records, pp.
108, 109.
LETTERS MM, page 227.
Parlamento tento apud Sconam duo­
decimo die mensis Junii cum con-
tinuatione &c. anno domini mil­
lesimo trecentesimo sexagesim o
octauo conuocatis prelatis proceri-
bus et burgensibus qui tunc volue-
runt et potuerunt personaliter
interesse aliis per commissarios
comparcntibus aliis autem conlu-
maciter absentibus.
Cum per relationem nunciorum nuper
missorum ad curiam et presenciam regis
Anglie domino nostro regi et toti com-
munitati fuerit expresse nunciatum,
quod non proficit inire nec attemptarc
tractatum cum rege et consilio Anglic
super pace habenda, nisi per delibera-
cionem et commissionem generalis con-
silii regis, et regni mittatur ad tractan-
dum in bona fide super vno quatuor
punctorum, principaliter, concedendo
alias per ipsos aduersarios petito vna
cum aliis diuersis articulis ipsis punctis
adiunctis ex parte omnium congrega-
torum in parlamento presenti. Habito
per quatuor dies, et amplius, super pre-
missis diligenti consilio et deliberacione
matura deliberatum, fuit finaliter, quod
cum adhuc restent treuge siue inducie
vltimo capte et concordate inter regem
et regnuni vsque videlicet ad festum
Purificacionis proximo futurum et
deinde per vnum annum continuum et
a tune vsque rex fuerit per regem
Anglie sub magno sigillo suo per dimi-
dium anni spacium ante incepcionem
guerre premunitus, non adhuc opportet
nec expedit inire nec attemptare trac-
tatum super aliquo dictorum punctorum
concedendo, que alias in pleno parla-
mento ad quod plures et maiores inter-
fuerunt quam nunc sunt hie presentes
per tres communitates vnanimiter fue-
rant denegata, que tanquam inconueni-
encia, intolerabilia et impossibilia ob-
seruari reputabantur et expressam,
inducencia seruitutem, verum non
deliberant quin aliter forte aliis de-
ficientibus secundum quod tunc op-
portunum et expediens visum fuerit,
possit attemptari in bona fide tractatus
super ipsorum punctorum aliquo, cum
punctis, articulis et moderacionibus,
seruitutem per Dei graciam finaliter
expellentibus si opportuerit conchi-
dendum.
Item deliberant quod quia neces-
sarium est prouiderc atque disponcre
---
NOTES AND ILLUSTRATIONS. 379
super et pro defensione regni omnes
dissensiones mote inter magnates et
nobiles aliter quam per viam iusticie
communis festinanter sopiri debeant et
sedari per regem ita quod nullus in-
quietet alium aliter quam per processum
communis iusticie quam quidem domi-
nus noster rex vnicuique debeat semper
administrare equaliter sine fauore aliquo
et acceptione personarum.
Item diliberant quod insulani et illi
de superioribus partibus compescantur
per regem et Senescallum Scocie ne
dampna inferant aliis sed quod in euentu
guerre possint communitaies tutum ha-
bere refugium inter eos. Et sic dominus
noster rex ibidem viua voce precepit et
iniunxit expresse Senescallo Scocie,
Comiti de Marre, Johanni Senescallo
Domino de Kyle, et Roberto Senescallo,
Domino de Meneteth, in fide et ligiancia
quam sibi debent et sub pena que in-
cumbit quod ab omnibus existentibus,
infra limites dominiorum suorum seru-
ent communitates regni indempnes. Et
quod scienter voluntarie seu inquantum
obsistere poterunt malefactores aliquos
dampna aliis illaturos per ipsos limites
transire aut in ipsis receptari non per-
mittant sub pena vt supra.
Item quod dominus noster rex statim
sine more dispendio faciat Johanni de
insulis per modum tactum inter ipsum
et Senescallum Scocie ibidem et simili-
ter Johanni de Loom ac Gillaspic Cam-
bel venire ad suam presenciam, et de
ipsis securitatem capiat sufficientem per
quam tota regni communitas ab eis et
suis hominibus et adherentibus et quili-
bet eorum ab alio de cetero sint indemp-
nes. Et eciam faciat quod ipsi et sui
homines subeant labores et onera cum
suis comparibus et vicinis.
Preterea videtur dictis dominis con-
gregatis ad cautelam et securitatem
maiorem quod dominus noster rex de-
beat scribere statim adhuc, cum instan-
cia, regi et consilio Anglie super diebus
reparacionum et emendacionum peten-
dis teneri et assignandis de dampnis et
iniuriis factis et illatis super marchiis
iuxta colloquium factum inter ipsos in
parlamento presenti.
Et deliberant quo ad custodias mar-
chiarum quod statim dominus noster
rex habeat consilium cum Comitibus
Marchie et de Douglas alias constitutis
custodibus marchiarum in oriente licet
non sint iam bene dispositi ad laborem
et secundum auisamentum eorum et
consilium custodes constituat celeriter
et prudenter sed in occidentibus parti-
bus remaneat Dominus Archibaldus de
Douglas custos sicut prius.
Et quantum ad castra deliberant,
quod dominus noster rex mittat cum
camerario Scocie hos milites subscriptos
videlicet Dominos Walterum de Lesly,
Walterum de Haliburtoun, Hugonem
de Esglintoun, et Walterum Moygne vna
cum custodibus castrorum quos ipse do-
minus noster rex habere voluerit ad
quatuor castra regia, videlicet Lacus de
Leuyn, Edynburgh, Striuelyn, et Dun-
bartan, visitanda et quod secundum
quod per visum ipsorum dicta castra
indiguerint tam in hominibus tempore
guerre quam in municione murorum in
victualibus instrumentis et aliis neces-
sariis ad ipsa castra debite et decenter
tenenda contra hostes sine dilacione
aliqua eis faciat prouideri. Et quod
aut per dictos milites aut per alios
prouidos et circumspectos rex faciat in-
dilate visitari alia castra et si inuenerint
ea defensibilia et inexpugnabilia inter
ipsum et dominos in quorum dominiis
siue custodiis ipsa castra fuerint situata
ordinetur celeriter de municione ip-
sorum tam in hominibus quam in vic-
tualibus et aliis necessariis vt supra
finanter absque more dispendio preci-
piat ea perstrui sub pena, &c.
Est eciam ordinatum quod quia non
adhuc videbatur expediens communitati
imponere contribuciones aliquas vel col-
lectiones debeant leuari de sacco lane
viginti sex solidi et viiito denarii ad
custumas regis et sic proportionaliter
de coriis & pellibus custumandis quous-
que cessatum fuerit a solucione redemp-
cionis vel aliter pro expensis domus re-
gis ordinatis. Et quia in quibusdam
partibus non sunt oues sed animalia alia
habundant ordinant quod in partibus
illis leuetur vna summa martorum ad
expensas dicte domus que iuxta visum
peritorum de consilio equipolleat oneri
quod incumbit lane ouium in custuma.
Ordinatum est discussum et publice
proclamatum in presenti parlamento
quod omnes processus facti super iudi-
ciis contradictis quorum discussio et de-
terminacio ad parlamentum pertinent
presententur cancellario ante parlamen-
tum proximum tenendum. Et quod
omnes partes ad proximum parlamen-
tum compareant ad audiendum et reci-
piendum determinaciones ipsorum. Et
discernitur quod ista premunicio seu
proclamacio preualet citationes ac si
mitteretur per breue de capella regis.1
1 Robertson's Parliamentary Records, pp.
---
380 HISTORY OF SCOTLAND.
LETTERS NN, page 228.
Vniuersis presentis literas inspecturis
Johannes de Yle Dominus Insularum
salutem in omnium saluatore Cum
serenissimus princeps ac dominus meus
metuendus dominus Dauid Dei gracia
rex Scotorum illustris contra personam
meam propter quasdam negligencias
meas commissas commotus fuerit propter
quod ad ipsius domini mei presenciam
apud Villam de Inuernys die quinto
decimo mensis Nouembris anno gracie
millesimo trecentesimo sexagesimo nono
in presencia prelatorum et plurium pro-
cerum regni sui accedens humiliter ip-
sius domini mei voluntati et gracie me
optuli et summisi de huiusmodi negli-
genciis remissionem et graciam suppli-
citer postulando Cumque idem dominus
meus ad instanciam sui consilii me ad
suam beneuolenciam et graciam graciose
admiserit concedens insuper quod in
possessionibus meis quibuscunque re-
maneam non amotus nisi secundum pro-
cessum et exigenciam juris Vniuersitati
vestre per presencium seriem pateat
euidenter, quod ego Johannes de Yle
predictus promitto et manucapio bona
fide quod de dampnis iniuriis et graua-
minibus per me filios meos et alios
quorum nomina in literis regiis de re-
missione michi concessis plenius expri-
muntur, quibuscunque regni fidelibus
hucusque illatam satisfaccionem faciam
et emendas terras et dominia in subiectis
iuste regam et pro posse gubernabo,
pacifice filios meos et homines et alios
nobis adherentes subici faciam prompte
et debite domino nostro regi legibus et
consue tudinibus regni sui et iustifica-
biles fieri, et quod obedient et compare-
bunt justiciariis, vicecomitatibus, cor-
onatoribus, et aliis ministris regiis, in
singulis vicecomitatibus, prout melius
et obediencius aliquo tempore bone
memorie, domini regis Roberti prede-
cessoris mei: et inhabitantes dictas ter­
ras et dominia sunt facere consueti, et
quod respondebunt prompte, et debite,
ministris regis de contribucionibus et
aliis oneribus et seruiciis debitis impos-
terum et eciam de tempore retroacto, et
in euentu quod aliquis vel aliqui infra
dictas terras seu dominia, deliquerit vel
deliquerint contra regem seu aliquos
vel aliquem de suis fidelibus et iuri
parere contempserit, seu contempserint,
aut in premissis vel premissorum aliquo
obedire noluerit, vel noluerint, ipsum
seu ipsos tanquam inimicum vel inimi-
cos et rebellem seu rebelles regis et
regni dolo et fraude omnino remotis
statim prosequar toto posse quousque a
finibus terrarum et dominiorum expul-
sus vel expulsi fuerit vel fuerint aut
ipsum vel ipsos parere fecero iuri com-
muni, et ad hec omnia et singula fa-
cienda inplenda et fideliter obseruanda
in predictorum prelatorum et proceruni
presencia corporate prestiti iuramen-
tum; insuper et dedi et concessi obsides
infra scriptos, videlicet Donnaldum,
filium meum ex filia domini Senescali
Scocie genitum Anagusium filium quon­
dam Johannis filii mei et Donnaldum
quemdam alium filium meum naturalem
quos quia tempore confeccionis presen-
tis presentialiter promptos et paratos
non habui, ipsos intrare seu reddi faciam
apud castrum de Dunbretane ad festum
natalis Domini proximo iam futurum si
potero alias citra vel ad festum Purifica-
cionis beate Virginis proximo inde se-
quens sub pena infraccionis prestiti
iuramenti et sub pena amissionis om­
nium que erga dominum nostrum regem
amittere potero, quouis modo, ad quor­
um obsidum intracionem vt premittitur
faciendam dominum meum dominum
Senescallum Scocie Comitem de Strath-
erne fideiussorem inueni cuius sigillum
causa fideiussionis huiusmodi et eciam
ad maiorem rei euidenciam vna cum
sigillo meo proprio est appensum pre­
sentibus in testimonium premissorum
Actum et datum anno die et loco pre-
dictis. 1
Letters 00, page 237.
In the MS. Cartulary of Kelso, pre­
served in the valuable collection of the
Faculty of Advocates, Edinburgh, is to
be found the following interesting and
curious Rent-roll of the possessions of
that rich religious house, which throws
great light on the state of the agriculture
of ancient Scotland :—
Rotulus reddituum Monasterii de
Kalchou tam de Temporalibus videlicet
de antiquis firmis terrarum suarum, in
burgis et extra burga, de antiquis exiti-
bus grangiarum et Dominuorum suorum,
quam de spiritualibus scilicet de pen-
sionibus debetis in ecclesiis suis et de
antique assedatione decimarum suarum
ubi sub compendio factus.
1 Robertson's Parliamentary Records, p.
115.
---
NOTES AND ILLUSTRATIONS. 381
De Temporalibus.
Habent monachi dicti Monasterii in
vicecomitatu de Rokisburg in tempo-
ralibus Grangiam de Reveden, cum
villa in puram elemosynam : ubi habent
dominium in quo colebant per quinque
carucas, et ubi possint habere unum
gregem ovium matricum circa xx et
pasturam ad boves suos. Habent ibi
octo terras husbandorum, et unam bora-
tum terrœ, quarum quilibet fecit talia
servicia aliquo tempore videlicet. Qua­
libet septimana in estate unum carra-
gium cum uno equo apud Berwicum et
portabit equus tres bollas biadi, vel
duas bollas salis, vel unum bollam cum
dimidia carbonum, et in hyeme fece-
runt idem cariagium, sed non portavit
equus nisi duas bollas bladi, unam et
dimidiam bollam salis, unam bollam et
ferloch carbonum : et qualibet septi-
mana anni cum venerint de Berwic fecit
quilibet terra unam dietam de opere
sibi injuncto.
Item quum non venerunt apud Ber-
wic coluerunt qualibet septimana per
duos dies ; et in autumno quum non
venerunt apud Berwic fecerunt tres
dietas; et tunc quilibet husbandus
cepit cum terra sua (staht ?) scil: duos
boves unum equum tres celdras avine,
sex bollas ordei, et tres bollas frumenti.
Et postmodum quum Abbas Ricardus
mutavit illud servicium in argentum
reddiderunt sursum suum staht, et
dedit quilibet pro terra sua per annum
xviii solidos.....Habent ibi de-
cem et novem cotagia, quorum octo
decem quodlibet reddit per annum xii
d. et sex dietas in autumno recipiendo
cibos suos; et adjuvabant circa locio-
nem et tonsionem bidentum pro cibis
suis; et decimum nonum cotagium
reddit xviii d. et novem dietas. Item
solebant ibi duæ braccine esse, que
reddebant duas marcas per annum.
Habent ibi molendinum quod solebat
reddere per annum novem marcas.
Habent apud Hauden unam carruca-
tam terræ quam semper habuerunt in
mantt sua.
Habent apud Sprouston duas caruca-
tas terrœ in Dominio ubi solebant colere
cum duabas carucis, cum communi pas-
tura dicte ville ad duodecim boves,
quatuor assos et iiic hoggass. Habent
ibi unam bovatam terræ quam Hugo
Cay tenuit que solebat reddere per
annum x solidos. Habent ibi sex
cotagia quarum unum quod est pro-
pinquum domui vicarii habet sex acras
terræ sibi pertinentes cum bracina que
solebat reddere per annum sex solidos.
Apud Scottoun habent duas acras terræ
et comnrunem pasturam pro iiiic mul-
tonibus, et habent licenciam fodiendi
focale quantum voluerint in ilia com-
munia, et solebant haberi unum homi-
nem in molendino ibidem et unum
porcum, et ibi solebant molere bladum
suum de Colpinhopis, sed nunc quod
habent licenciam habendi molendinum
apud Colpinhopis et molere bladum
suum ad proprium molendinum dabunt
annuatim molendino de Schottoun di-
midiam marcam.
Habent in tenemento de Yetham
juxta molendinum de Colpinhopis tres
acras terre cum communi pastura de
Yetham quas molendinarius de Colpin-
hopis solebat tenere, et ibi solebant
monachi habere et facere receptacu-
lum bonorum suorum de Colpinhopis
quum viderint aliquid periculum ex
altera parte. Apud Cliftoun habent
septem acras terre quas dnus ecclesie
de Mole dedit pro pane benedicto in-
veniendo.
Habent unam grangiam que vocatur
Colpinopis ultra marchiam ubi possint
colere cum duabus carucis pro tempore
hiemali; et habere pasturam viginti
boves et xxtl vaccas, et post annum
deponere sequelam suam, et vc oves
matrices et iic alios bidentes.
Apud Molle habent apud Altoriburn
1 acras terre arabilis et prati cum com-
muni pastura ad iiic bidentes cum
libero introitu et excitu, et ad decem
boves et iiii assos, et habebunt in bosco
de Scrogges stac et flac pro omnibus
suis firmandis, et virgas pro reparacione
carucarum suarum.....
Habent villam de Bolden in qua
sunt viginti octo terre husbandorum
quarum quilibet solebat reddere per
annum vi sol. et viii denar. ad pente-
costem et Sancti Martini, et faciendo
talia servicia. Scil: metendo in au-
tumpno per quatuor dies cum tota
familia sua quilibet husbandus et uxor
sua; et faciet similiter quintam dietam
in autumpno cum duobus hominibus.
Et quilibet cariabit unum plaustrum
petarum vel pullis usque ad Abbatiam
in œstate et non plus. Et quilibet hus-
bandus faciet cariagium per unum
equum de Berwick una vice per annum
et habebunt victum suum de Monasterio
quum faciunt hujusmodi servicium, et
quilibet eorum solebat colere quolibet
anno ad grangium de Newton unam
---
382 HISTORY OF SCOTLAND.
acram terre, et dimidiam acram, et
herciabit cum uno equo per unum
diem, et quilibet inveniet unum homi-
nem in locotione bidentum et alium
hominem in tonsione sine victu et re-
spondebunt sibi de forinseco servicio et
de aliis Sectis, et cariabunt bladum in
autumpno cum uno plaustro per unum
diem, et cariabunt lanam Abbatis de
baronia usque ad Abbatiam et invenient
sibi cariagia ultra moram versus Les-
mahago. Abbas Ricardus mutavit illud
servicium in denar. per assedacionem
fratris Willmi de Alincromb. tunc
Camerarii Sui.
The limits to which this note must
be confined will not allow me to give
further extracts from this curious
manuscript rental, demonstrating the
riches of the early monasteries. It
appears, in the concluding pages of it,
that Kelso possessed no less than thirty-
four churches, the united rents of which
amounted to the sum of vc li lib. xi
solid, iiii denarii.
The rental was drawn up previous to
1316.
Letters PP, pages 254, 255.
Slavery of the Lower Orders.
In the ancient manuscript Cartulary
of Dunfermline, preserved in the library
of the Faculty of Advocates, Edinburgh,
and page 541 of the Macfarlane trans­
cript, is to be found the deed entitled,
" Perambulatio inter terras Abbatis de
Dumferm. et terram David Hostiarii.
scilicet Dunduf. 1231," which illustrates
the comparative situation of the higher
classes and the lower orders in the thir­
teenth century. A jury of probi homines
are therein summoned by the precept of
the king, to determine the marches be­
tween the lands of David Durward and
the domain of the Abbacy, who take the
evidence of the countrymen residing on
the spot, and determine the question.
The jury are the freemen; and their
names are, with a few exceptions, Saxon
and Norman names: the witnesses were
evidently the nativi bondi, who were
the property of their lord; and their
names are almost exclusively Celtic.
In the same Cartulary, p. 592, will be
found a deed entitled, " Assisa Super
Alano, filio Constantini et duobus filiis,"
by which we find that, in 1340, an as­
size was held in the churchyard of Kar-
tyl before David Wemyss, sheriff of
Fife, to determine whether Alan, the
son of Constantine, and his two sons,
were the property of the Abbot of Dun­
fermline, or of the Earl of Fife; when
it was found, " per fidelem assisam fide
dignorum et nobilium," that these per­
sons belonged to the Lord Abbot of
Dunfermline. See the same Cartulary,
p. 654, for the names of the slaves given
by David, probably David the First, to
the church of Dunfermline. Their
names, Marcoran, Mevynir, Gyllemi-
chael, Malmuren, Gillecrist, Gillema-
hagu, are, with one or two exceptions,
Celtic.
Letters QQ, page 255.
State of the Lower Orders.
In the same valuable Cartulary, p.
145, are to be found many genealogies
of the slaves, or bondmen, who belonged
in property to the monastery, which
shew how carefully the marriages, the
families, and the residence, of this un­
fortunate class of men were recorded. I
shall subjoin one of them :—
Genealogia Edillblac.
" Edillblac genuit W. de Lathanland,
Willmus Constantinum, Constantinus
Johannem qui vivit: Iste sunt homines
de Dumferm. et remanentes. Gilbertus
de Cupromal manet in Balnyr in schyra
de Rerays. Galfr. de Dumberauch
manens apud Dumberauch. Cristinus
filius adæ manens apud Westerurchard
Ego filius Gilberte manens in terra Ach
de Kynros. Joannes filius Kynect
manens apud Walwein, Oenenus freber-
ner manens apud hichir mokedi. Patri-
cius frater ejus manens apud Renke-
louch Mauricius Colms. manens apud
Petyn Kyr."
In other genealogies, the place of the
death and burial of the bondman is par­
ticularly specified.
LETTERS RR, page 323.
Arms and Armour.
This assize of arms will be found in
the manuscript Cartulary of Aberbro-
thoc, preserved in the Library of the
Faculty of Advocates, Edinburgh. Mac-
farlane Transcript, p. 295.
" Quod quilibet homo de regno laicus
habens decem libras in bonis habeat pro
corpore suo in defensionem regni unam
sufficientem aketonam, unum bacinetum
et cyrotecas de guerre, cum lancea et
gladio. Et qui non habuerit aketonam
et bacinetum habeat unum habergellum,
vel unum bonum ferrum pro corpore
---
NOTES AND ILLUSTRATIONS. 383
suo, unum capellum de ferro et cyrote-
cas de guerra, ita quod quilibet sit para-
tus cum attyliis predictis citra octavas
paschi proxime futuri. Et quecunque
habens decem libras in bonis, non habu-
erit tunc omnia armorum attylia pre-
dicta, perdat omnia bona sua. Ita quod
dnus rex habeat unam medietatem bon-
orum, et dnus illius qui in defectu fuerit
repertus habeat aliam medietatem. Et
dnus rex vult quod singuli vicecomites
rgni cum dnis locorum inquirant super
his, et faciant monstracionem statim
post octavas Paschæ predictas. Praete-
rea dnus rex vult et precipit quod qui-
cunque habens valorem unius vacce in
bonis habeat unam bonam lanceam, vel
unum bonum arcum, cum uno scafo
sagittarum, videlicet viginti quatuor sa-
gittis, cum pertinenciis sub pena pre-
scripta."
Letters SS, page 325.
Dress of the Ladies.
I shall give the passage in the original,
from the beautiful edition of this inte­
resting and curious poem, published in
1814 by Didot:—
" Puis li revest en maintes guises
Robes faites par grans maistrises
De braus dras de soie, ou de laine
De scarlate ou de tirelaine,
De vert, de pers ou de brunete
De color fresche, fine et nete
Ou moult a riches pennes mises
Erminees, vaires ou grises
Puis les li oste, puis repoie
Cum li siet bien robe de soie
Cendaus, molequins Arrabis
Indes vermaus jaunes, et bis
Samis diapres, Camelos
Por neant fut ung angelos
Tant est de contenance simple
Autrefois li met une gimple
Et par dessus ung cuevrechief
Qui cuevre la gimple et le chief
Ains ne cuevre par le visage.
Qu'il ne vuet pas tenir l'usage
Des Sarrasins, qui d'estamines
Cuevre les vis as Sarrasines
Quant eus trespassent par le voie
Que nuz trespassans ne les voie
Tant sunt plein de jalouse rage
Autrefois le reprent corage
D'oster tout, et de mettre guindes
Jaunes, vermeilles, vers et indes.
Et tréceors gentiz et gresles
De soie et d'or à menus pesles,
Et dessus la crespine atache
Une moult precieuse atache
Et par dessus la crespinette
Une coronne d'or grelete
Ou moult ot precieuses pierres,
Et biaus chastons a quatre quierres
Et a quatre demi-compas
Sans ce que ge ne vous cont pas
L'autre perrerie menue
Qui siet entor espece et drue
Et met à ses deus oreillettes
Deus verges d'or pendans greletes
Et por tenir la cheveçaille
Deus fermaus d'or pendans greletes
En mi le pis ung en remet
Et de li ceindre s'entremet ;
Mes c'est d'ung si tres-riche ceint
C'onques pucele tel ne ceint.
Et pent au ceint une aumosniere
Qui moult est precieuse et chiere
Et cinq pierres i met petites
Du rivage de mer eslites.
Dont puceles as martiaus gevent
Quant beles et rondes les trevent
Et par 'grant ententi li chauce
Et chacun pie soler et chauce
Entaillies jolivetement
A deus doie du pavement
N'ert pas de hosiaus estrenee
Car el n'ert pas de Paris nee
Trop par fust rude chaucemente
A pucele de tel jovente
D'une aguille bien afilee
D'or fin de fil d'or enfilee
Li a, por miex estre vestues
Ses deux manches estroit cosues
Puis li bailie flors novellettes
Dont ces jolies puceletes
Font en printemps lors chapelez
Et pelotes et oiselez
Et diverses choses noveles
Delitables as damoisles.
Et chapeles de flors li fait
Mes n'en veistes nul si fait
Car il met s'entente toute
Anelez d'or es dois li boute
Et dit cum fins loiaus espous
Bele donie, ci vous espous
Et deviens vostres et vous moie
Ymeneus et Juno m'oie
Qu'il voillent a nos noces estre
Ge'ni quier plus ni clere ne prestre,
Ne de Prelaz mitres ne croces
Car cil sunt li vrai diex des noces.
Pp. 294-298 inclusive, vol. iii.
Letters TT, page 327.
It is not conceivable, says Mr Thom­
son, from whom I have procured some
information on this obscure subject, that
this claim of the Earl of Douglas could
have any other basis than a revival of
the right of the Baliol family, whose
titles appear to have devolved at this
period on the Earl of Douglas. John
Baliol, it is well known, left a son,
Edward, whom we have seen crowned
King of Scotland in 1332, who after­
wards died in obscurity, and without
children. (History, vol. ii. pp. 16, 90.)
The right of the Baliol family upon this
reverted to the descendants of Alexander
de Baliol of Kavers, brother of King
John Baliol;l and we find that, in the
reign of David the Second, the repre-
1 Dugdale's Baronage, vol. i. p. 525.
---
384 HISTORY OF SCOTLAND.
sentative of this Alexander de Baliol
was Isobel de Baliol. Comitissa de Mar,
who married Donald, twelfth earl of
Mar. This lady, it appears, by a deed
in the Rotuli Scotiæ, vol. i. p. 708, mar­
ried, secondly, William de Careswell,
who, during the minority of her son,
Thomas, thirteenth Earl of Mar, Lord
of Garryach and Cavers, obtained from
Edward the Third " the custody of all
the lands which belonged to Isabella
the late Countess of Mar, his consort."
Thomas, earl of Mar, died without issue,
but he left a sister, Margaret, who suc­
ceeded her brother, and became Coun­
tess of Mar in her own right. She mar­
ried for her first husband William, earl
of Douglas, who, in her right, became
Earl of Mar ; and, as possessing through
her the right of the house of Baliol. upon
this ground laid claim to the crown.
Winton, vol. ii. p. 304, does not men­
tion the ground upon which the Earl of
Douglas disputed the throne with Ro­
bert the Second. But the ancient manu­
script, entitled " Extracta ex Chronicis
Scotiæ," fol. 225, is more explicit. Its
words are, " Dowglace Willmus Comes
manu valida militari, coram eis com-
paruit allegans jus corone et successionis
in regnum ad se ex parte Cuminensium
et Balliorum pertinere. " And this is cor­
roborated by Bower, Fordun a Goodal,
vol. ii. p. 382. Douglas's right through
his wife we have just explained ; and I
may refer to a paper on the ancient
lordship of Galloway, in the ninth vol­
ume of the Archæologia, p. 49, by Mr
Riddell, for an explanation of his title
through the Comyns.
END OF VOL. I.
BALLANTYNE AND COMPANY, PRINTERS, EDINBlRGH.
But first, if you want to come back to Scotland's History and Legends again, just add www.historyandlegends.com to your bookmarks or favorites now! Then you'll find it easy!
Also, please consider sharing our Scottish History and Legends website with your online friends.
---
Our Privacy Policy can be found at www.cholesterolcholestrol.com/privacypolicy.htm
---
Copyright © 2000-present Donald Urquhart. All Rights Reserved. Designated trademarks and brands are the property of their respective owners. Use of this Web site constitutes acceptance of our legal disclaimer.
---